Getting ready for the Dublin Spring Show one of the largest events in the agricultural calendar.
Final preparations are underway at the Royal Dublin Society (RDS) for the Spring Show. The army set up a telecommunications network while the last touches are put to the horse jumping enclosures. The stands in the main concourse are being constructed to display a wide range of business services and products.
Everything from down to earth practical exhibits like gardening apparatus, kitchenwares and sewing machines, to exotic, expensive furs and glittering jewellery.
Even the Revenue Commissioners had their own stand.
The back of the Anglesea Stand at the RDS resembled a beauty parlour with cows being scrubbed and cleaned in preparation for an exhibition of cattle breeds.
There's many a clean and sparkling animal to be seen parading the grounds this week.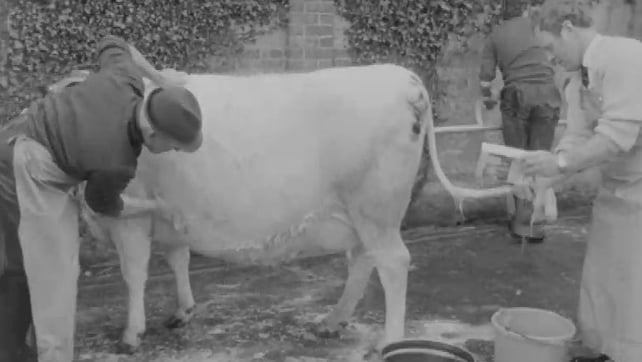 Spring Show (1973)
The show also includes a display of machinery including everything from tractors, forklift trucks and hydraulic lifters, to milk cooling tanks and milking machines. There is also a display of new cars to tempt potential buyers.
A more unusual feature of this year's show is the Rural Urban Exhibition, designed to allow city people a glimpse into the lives of animal mothers and their children. These include a mare and foal, a donkey and foal, a cow and twin calves, a ewe and twin lambs, a goat and kids, as well as ducks and geese.
For the outdoor types, there's a display of tents of every shape and size.
David Grey and Edward Taylor, tell Doireann Ní Bhriain about the work involved in putting on such a large scale and diverse event together. They also describe how the vast array of exhibits and lectures will appeal to a broad audience.
All of the different facets of Irish agriculture can be brought under one roof.
This episode of 'Tangents' was broadcast on 1 May 1973. The reporter is Doireann Ní Bhriain.