A five day nationwide tractorcade ends as farmers drive 300 tractors into Dublin city centre to demonstrate over falling incomes.
On 6 January 2003, farmers from all over Ireland set out in their tractors to drive to Dublin to highlight falling incomes. By the third day of the protest, 2,000 tractors were travelling in a tractorcade convoy to Dublin. The farmers arrived in Dublin on Friday 10 January but agreed to minimise disruption to the city by limiting their convoy to 300 tractors. They descended on Merrion Square for the final stage of the protest, where John Dillon of the IFA gave a speech listing the farmers' demands.
The tractors began pouring into Merrion Square at half-past eleven hooting their horns as they arrived.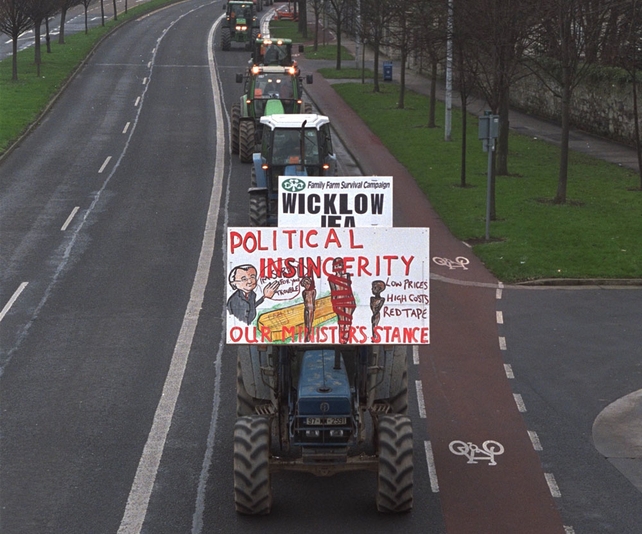 Tractors en route to Dublin City Centre. Photo by Tom Holton
The 300 tractors travelled through the city in groups of fifty from six points around the city. The tractors parked four deep around the square restricting access to the area.
It was an amazing spectacle with so many agricultural vehicles in an urban setting.
The farmers received a warm welcome from Dubliners who supported their protest. One protester commented
We want to bring it home to government that we're not as well off as they seem to think.
Another commented,
We have to put our case to the government and the public.
President of the Irish Farmer's Association (IFA) John Dillon called for government action which would help to boost farm incomes, covering disease levies, VAT, market management, environmental protection, and sheep stocking arrangements.
Minister for Agriculture Joe Walsh said that the farmer's demands would be addressed in the context of the PPS talks.
An RTÉ News report broadcast on 10 January 2003. The reporter is Joe O'Brien.