Following a generous gesture by a group of Donegal farmers to their counterparts on Arranmore, a pedigree bull by the name of Roy sets sail for the island.
Roy carried with him the hopes of many supporters of sustainable island farming and they say it's unlikely he'll be sent home until he gets a result.
His name is Roy and he's a bull with a mission. His goal to revive the cattle business on a remote island.
35 lonely cows on Arranmore await the arrival of Roy. How Roy performs will mean success or failure for Arranmore farmers who are delighted with this gift from the mainland. George O'Hagan, Donegal Irish Farmer's Association Chairman, says that Donegal mainland farmers are very sympathetic to the plight of their counterparts on the island.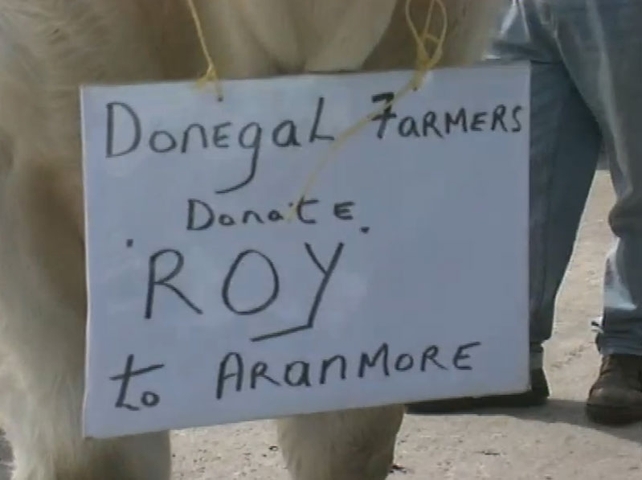 Roy The Bull
On landing, Roy was welcomed by locals, farmers and a bagpiper. After posing for photographs he was whisked away to his grazing pastures on nearby Rutland Island.
Locals are optimistic that Roy will do the business.
An RTÉ News report broadcast on 29 May 2002. The reporter is Eileen Magnier.