Antrim farmer David Gaston has recently adopted a new system of housing cattle in cubicles.
At the farm of David Gatson near Ballymoney in County Antrim reporter Patrick Jennings learns about the advantages of cubicles for cattle over the open yard system.
David Gaston explains that the cubicle system is less labour intensive, cleaner and provides for a more effective use of space. The new setup also provides a self-cleaning process resulting in less work for the farmer. Each cubicle has a slatted floor, allowing for manure to fall through into tanks, which are cleaned out every six weeks. A rubber hose is used to suck out the waste and it takes about one day to clean out 10,000 gallons in each tank.
This episode of 'On The Land' was broadcast on 25 March 1963.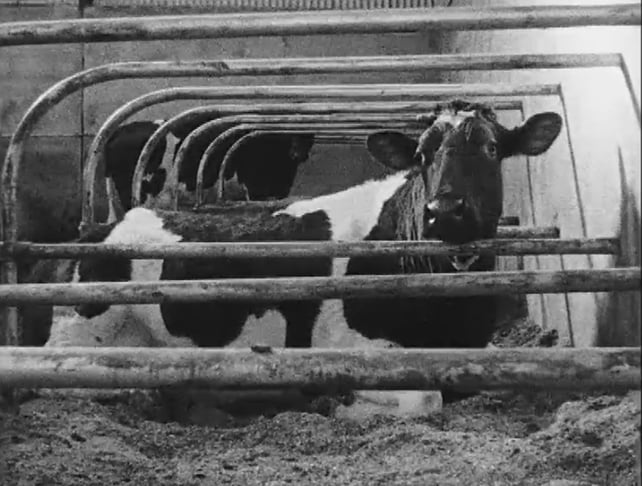 Cow in Cubicle
'On the Land' was a weekly programme for farmers broadcast from 1962 to 1971. Jack White, Head of Public Affairs, Telefis Eireann, wrote
Good cover of farming is a basic duty for a television network that serves an agricultural country. Telefís Éireann is anxious to do its bit to make for a better life on the land.

(RTV Guide, 9 February 1966. Vol.1, No.11, p.6)