The Blasket Islands are associated with writers, but Tory Island, off the north-west coast of County Donegal, is linked with a different art form; primitive painting.
The primitive painting tradition began on Tory in 1956 when English painter Derek Hill visited the island. Three of the Island's primitive artists are interviewed for 'Scaoil Amach an Bobailín', including Patsy Dan Rodgers, the last surviving member of the original group of Tory artists.
Patsy Dan began painting in the 1970s and has exhibited his work in Belfast, Dublin, Edinburgh and Paris. His paintings depict life on Tory, including the difficulties of life on the island during the winter. He describes how one of his paintings, an aerial view map of Tory Island, came about.
Bhí mé féin in airde i héileacaptar le pilot a bhí mar chara agam.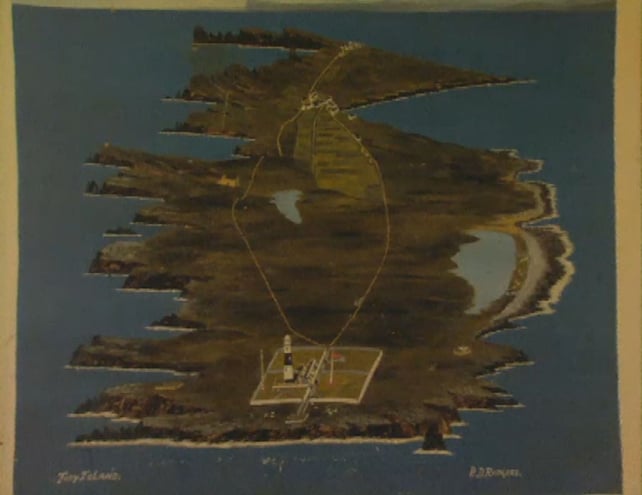 Another artist explains the tradition behind his painting of Saint Colmcille, who founded a monastery on the Island in the 6th century. When the saint arrived to pagan Tory Island, he was set upon by the King's poisoned dog. The saint made the sign of the cross, causing the dog to jump into the sea to avoid the blessing. The dog left his footprints on one rock and split another rock with his tail. This feature on the Island became known as the 'Rock of the Hound'.
A third artists who also depicts life on Tory, says he has been painting for the last four years.
This episode of 'Scaoil Amach an Bobailín' was broadcast on 12 April 1992. The reporter is Rónán Mac Aodha Bhuí.
'Scaoil Amach an Bobailín' was an Irish-language television programme featuring comedy sketches, rock music and debate on social and political issues.
Loosely translated as 'Let It All Hang Out', the programme was designed to appeal to Irish speakers both inside and outside the Gaeltacht. It was presented by Seán Bán Breathnach and Cynthia Ní Mhurchú. There were also two young reporters, Rónán Mac Aodha Bhuí and Bláthnaid Ní Chofaigh, who went around the country looking for stories of interest.
'Scaoil Amach an Bobailín' was first broadcast on 7 October 1990 and ran until 1992.