Big Bertha a celebrity cow makes news around the world after successfully completing her 39th pregnancy at home in County Kerry.
The remarkable Kerry bovine aged 43 and her baby calf Bertha Junior appear for the cameras hours after the birth on the farm.
Farmer Jerome O'Leary introduces reporters to the newborn calf, the 3 year old father of the calf a pedigree Charolais bull and the 43 year old mother known as 'Big Bertha'.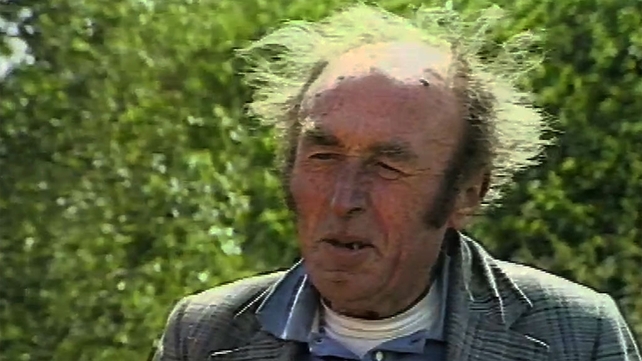 Jerome O'Leary (1986)
RTÉ Reporter Tom MacSweeney talks to Mr O'Leary about the visitors who come to see Bertha, the "40 year age gap" between Mum and Dad and how immensely proud he is of his 'cash cow' who led the St Patrick's Day Parade in Sneem, County Kerry as Grand Marshall.
Big Bertha, the cow (1945 – 1993) later went on to hold two Guinness World Records: as the oldest cow recorded, (she died three months short of her 49th birthday), and for a breeding record (she produced 39 calves). Big Bertha helped fund raise thousands for cancer research and other charities.
Shortly before her death in 1992 Joe Duffy travelled to Kerry to meet Bertha and Jerome O'Leary in the Blackwater Tavern to broadcast live on air as part of The Gay Byrne Radio Show when the cow reached 48 years of age and won her first Guinness Book of Records award.
After the Big Bertha's death she was stuffed by a taxidermist and was located at a Beaufort farm in County Kerry.
An RTÉ News report broadcast on 10 June 1986. The reporter is Tom MacSweeney.