In 1954 Norman Hodgson was at the RDS in Dublin for the Dublin Horse Show. Camera in tow he captured the glamour of the guests as they arrived in the show jumping arena.
In the days before Irish television Norman managed to capture in colour some sporting events that would have otherwise become a distant memory. Here we bring to life the fully restored footage from sixty years ago. The Dublin Horse Show ran from 3 to 7 August, 1954.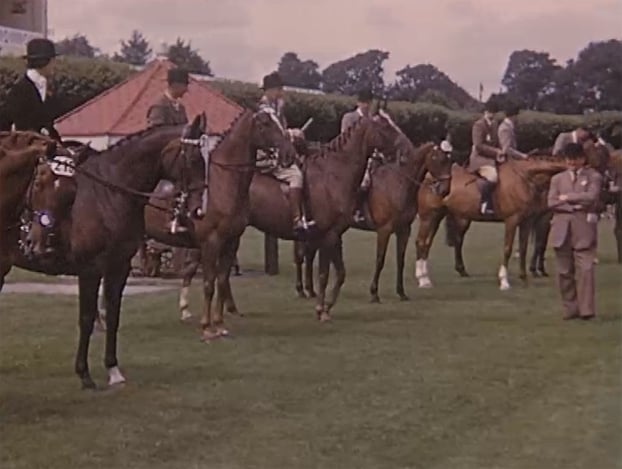 Norman Hodgson (1905-74) was born in Lenzie in Scotland. He married Marjorie Towers in 1932 and came to live in Skerries in the late 1930s. The couple had four children. Norman was an avid amateur filmmaker who recorded many sporting and social highlights of Irish life (much of it in colour) in the late 1940s and 1950s.
He was MD of William W. Warnock and Co. and President of the Irish Seed Trade which took him and his camera to the Dutch Bulb fields on the Golden Jubilee of the Dutch Bulb Exporters Association and to the Spring Show where the company had a stand.
Norman Hodgson was Commodore of the Skerries Sailing Club in 1952 and in 1953 organised classes to build Mermaid dinghy boats. These 17 foot clinker built wooden vessels were raced annually competing for the Mermaid Trophy (a bronze replica of the Little Mermaid in Copenhagen) which he donated as a prize.
Norman Hodgson wrote detailed scripts to accompany the screening of his films and he noted in one "Please keep in mind that at all times there is only one camera, and one person behind the camera, and it means an awful lot of running around to do it all - not to mention the hours and hours, and weeks and weeks of editing, writing the commentaries, etc., etc."
Norman's daughters Helen Hodgson and Rosalie Pickering cared for his films, camera and projector before donating the collection to RTÉ Archives.
The Hodgson Collection consists of a total of 29 items (28 rolls of film and one DVD) covering many sporting and social highlights of Irish life in the late 1940s and 1950s (much of it in colour).