Fiona Dowley is a groom to Irish show jumper Eddie Macken taking care of his horses at events around the world.
Champion show jumper Eddie Macken is preparing for the Dublin Horse Show. He readily acknowledges that the one person he cannot do without is his groom.
In addition to looking after the horses, they also make the travel arrangements, have knowledge of veterinary, and be able to judge how a horse is on the day of a show. It means being one hundred per cent committed to their profession,
We have the easy end, we pack up and go by plane and arrive in Hickstead or Germany or wherever we are going but they have to live with the horses on the way, and their job is only starting then when they get to the show.
Eddie Macken's top groom is Fiona Dowley from Tramore County Waterford, who has been working as a groom since she left school. Having loved horses from childhood, she never wanted to do anything else except work with them. Her parents still have their reservations about her chosen career however,
I don't think they think it's the sort of job for a girl, it's a bit rough, I suppose they have their point.
A top groom's life revolves around the showjumping calendar, which involves a lot of travel. Fiona says the reality is a far cry from the perceived jet set lifestyle, but it has its advantages
You make so many different contacts; people that you wouldn't normally meet...you learn so many things really.
In this male-dominated profession, the female grooms can tend to get overlooked, and any aspirations towards looking your best go out the window. There is great camaraderie among all the grooms,
There's a lot of friendship there, very close most of us.
Does she mind that, despite all her hard work, she will never be in the spotlight? No says Fiona, as she accepted her limitations as a rider long ago, and focuses instead on Ireland's largest equestrian event,
Dublin for me is the best show in the world.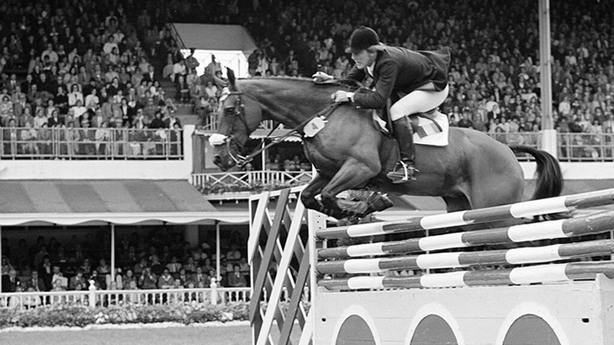 Eddie Macken competing in the Nations' Cup, Dublin Horse Show (1978)
This report for 'Summerhouse' was broadcast on 8 August 1979. The presenter is Áine O'Connor.
'Summerhouse' was a summer magazine series on RTÉ Television. First broadcast in the summer evening time slot on RTÉ 2 on 13 June 1979, it ran until to 1981. Other presenters and reporters were Liam Nolan and Vincent Hanly. The programme was produced by John McColgan.