The suburban location of Belfield will be the new purpose built home for University College Dublin when it moves from the city centre.
In 1965 an estimated 7,500 students will attend University College Dublin (UCD) in Earlsfort Terrace, five times the numbers for which it was designed.
The Earlsfort terrace buildings were finished in 1919 to house the main part of UCD. To ease congestion building plans for a new campus were set in motion in 1948.
The architect Andrzej Wejchert successfully tendered for the design of the UCD campus at the Belfield site on Stillorgan Road. His design won an international competition to design a university that includes buildings for main faculties and administration.
Due to the demand for space at Earlsfort Terrace, the first building erected at Belfield is the science block.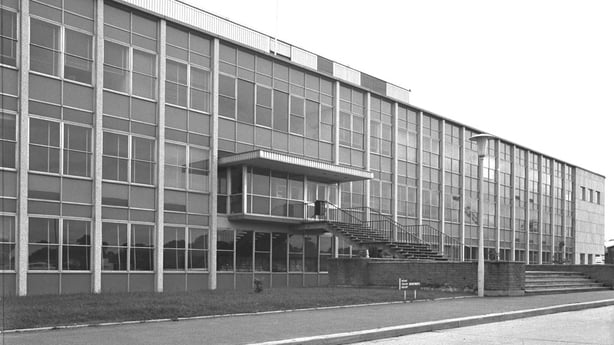 That UCD is to move out of the centre of Dublin to a suburban site is largely due to UCD President Dr Michael Tierney, who commenced his term of office in 1947.
In his 17 years as UCD President, Dr Tierney considers his biggest achievement was,
The plan to move the college out to a much larger site and to provide adequate buildings for the college.
Dr Tierney is confident that UCD will develop greatly and hopes to see everything needed for a modern university provided on the new site.
I think when that is done it will be a worthy university for the people of Ireland.
He thinks the development of UCD still fits the founder Cardinal John Henry Newman's idea of a university albeit in altered circumstances. UCD was re-founded in 1908 and given a charter.
We were intended to be a popular university for the normal, vast majority of the Irish people and I think the circumstances have changed, but I think we can carry out Newman's ideas in these changed circumstances.
Dr Tierney does not believe the move to a suburban setting is a problem for the institution being regarded as the university of Dublin. He says that as Dublin develops over time, eventually Belfield will be considered close to the centre of the city.
'Sixty-Four' is Telefís Éireann's Major programme on Irish and world affairs.
This episode of 'Sixty Four' was broadcast on 1 October 1964. The reporter is John O'Donoghue.