Irish boxing past, present and future celebrated at the Ulster American Folk Park in Tyrone.
'The Fighting Irishmen' exhibition includes the mummified long arm of the legendary Dan Donnelly, a champion prizefighter in the 1800s.
The Fighting Irishmen not only tells the story of Irish boxing but also of emigration.
Jim Houlihan, curator at the Irish Arts Centre in New York describes the exhibition as a story of,
Emigration, assimilation, perseverance, persistence, success through a lot of hard work and hard toil
Former World Featherweight Champion Barry McGuigan, who has contributed to the exhibition, says that for many Irish people the only way they could earn respect was to fight. He says that while the notion of the Fighting Irish means more than the bit of a cliché it sounds.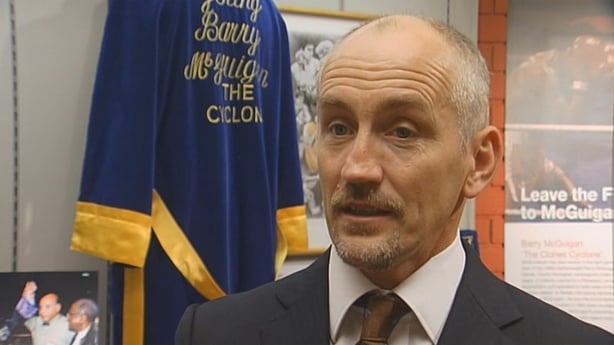 Barry McGuigan (2009)

Belts, medals, photographs, television footage, the boxing bag from the last ever bare knuckle fight and the coat worn by John L Sullivan, also known as the Boston Strongman, who McGuigan describes as,
David Beckham multiplied by a hundred of today. He was the most famous guy in America bar the president.
An RTÉ News report broadcast on 14 June 2009. The reporter is Eimear Lowe.