Barry McGuigan is a young boxer with a devastating body punch and the potential to be a world champion.
Ahead of a British Featherweight title fight, 'Ireland's Eye' travels to Belfast to meet boxer Barry McGuigan, and his manager Barney Eastwood.
Barry McGuigan from Clones County Monaghan is set to make his name in the boxing world. At the time this report was filmed, he had won thirteen out of fourteen professional fights, and was preparing to fight British boxer Vernon Penprase in the Ulster Hall for the British Featherweight title, the most important fight of his career to date. McGuigan acknowledges that a lot depends on the results of this match,
I know that it's a step up into the big time. I know how important it is, I've trained very hard and I just want to get on with it, I'm looking forward to it.
Barry McGuigan's day starts with a six mile run every morning. But it's just as important for him that the mind is as well prepared as the body,
I think a lot about what me trainer has told me, what mistakes I'm doing, trying to capitalise on them, correct them, rectify what I've done wrong, and also I try to think of my opponent, what type of a style he has, what way I intend to fight him.
Barry's trainer Eddie Shaw has been working just as hard, and is confident that Barry can win,
If he keeps progressing the way he has done within this last year, there'd be very few people in the world who'd beat McGuigan.
Bookmaker and boxing promoter Barney Eastwood is Barry's manager. He stopped promoting boxers in the 1960s, and explains why he decided to take the Clones man on,
Well he has dedication and all the things that a good fighter should have, but he's a devastating body puncher. I've never seen a body puncher like him in this country, and certainly in few others.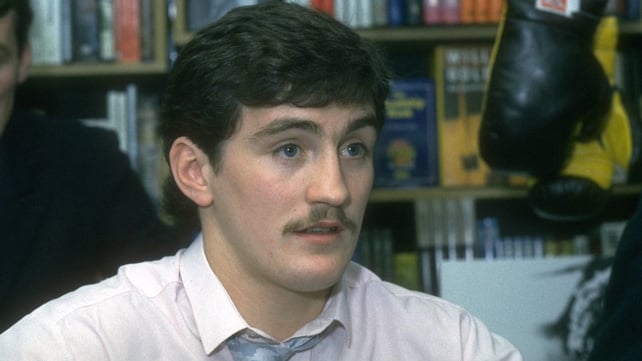 Barry McGuigan (1985)
This report for 'Ireland's Eye' was broadcast on 12 April 1983. The reporter is Nicholas Coffey.
'Ireland's Eye' was a Tuesday-to-Friday series with human-interest stories and features from locations throughout Ireland. First broadcast on 7 October 1980, the programme ran until August 1983.