Despite his victory, it is a slightly despondent Muhammad Ali that speaks to journalists immediately after the fight and credits the performance of his opponent Al 'Blue' Lewis.
Excitement mounts in Croke Park before the eagerly anticipated fight between heavyweight boxers Muhammad Ali and Al 'Blue' Lewis on 19 July 1972.
Among those attending the fight at Croke Park are film director John Huston, Irish traditional musician Barney McKenna and sports journalist John O'Shea. RTÉ Television cameraman Phil Mulally was also on hand to film proceedings.
Muhammad Ali, the self-proclaimed 'Greatest' beat Lewis in the 11th round by a technical knockout. After the fight, a low key but victorious Ali is interviewed by journalists in his dressing room.
Ali was lacking his usual flare during the fight, and is gracious about his opponent, admitting Lewis, a tall man, was awkward to fight. Ali did not manage to get Lewis early in the fight.
I hit him a lot of times but he just kept coming and coming through.
Ali took a few shots and his nose bled in the fourth or fifth round.
He gave me a rougher fight than [Jerry] Quarry did and he's the number two man.
Ali's next fight with former world champion Floyd Patterson and he is not sure he will win if he fights how he fought against Lewis.
Not if he's in top shape no, I never fought like I did tonight.
Ali's performance against Lewis will not influence his plans to fight heavyweight champion Joe Frazier and he still plans to take him on after Patterson.
When all is said and done Ali beat Lewis and did not lose any of the 11 rounds.
I'm happy 'cause I proved he was a good fighter and then I'm known as the one who fought him.
This episode of 'Sport in Action' was broadcast on 20 July 1972. The presenter is Michael O'Hehir.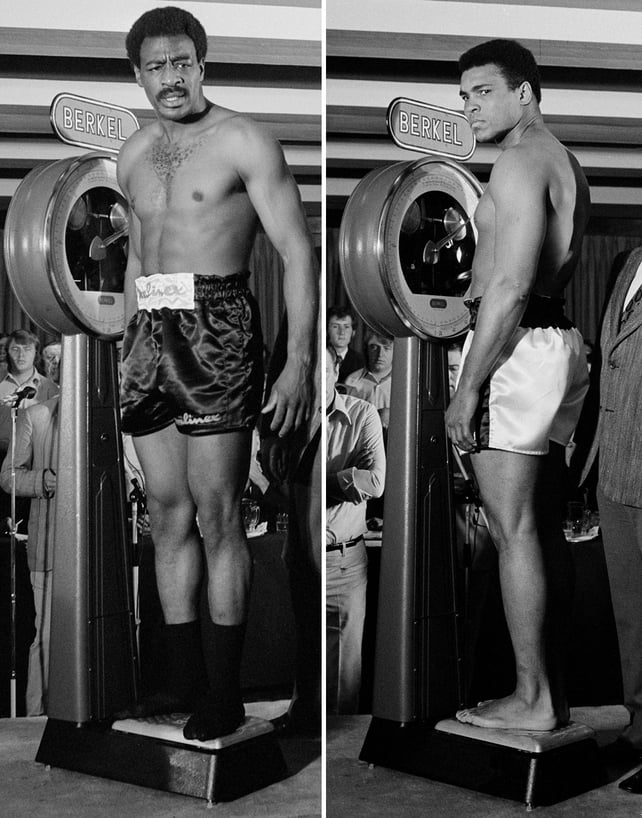 Al 'Blue' Lewis and Muhammad Ali at their weigh-in at the Gresham Hotel in Dublin on 19 July 1972.