Muhammad Ali looks ahead to his bout with Al 'Blue' Lewis in Dublin.
Muhammad Ali is welcomed at Dublin Airport by fans and journalists. He tells Noel Andrews why this fight with Al 'Blue' Lewis is taking place in Ireland.
Ali believes that a true world champion should fight around the world. He has had fights in Japan and Switzerland and now Ireland. There are also plans to fight in Africa and Russia.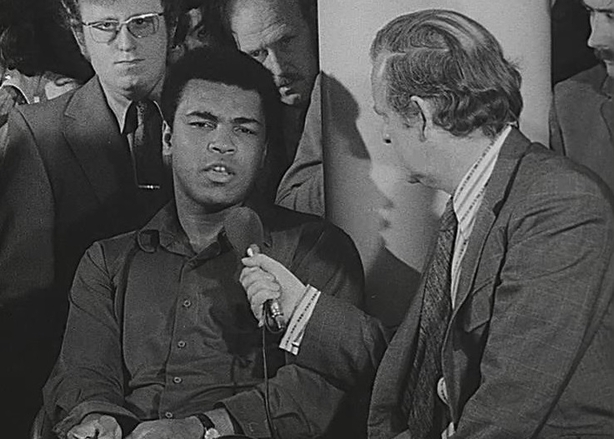 He describes his opponent in Dublin Al Blue Lewis as,
A top contender that everybody is ducking.
Although Muhammad Ali has never seen Al Blue Lewis fight, they have sparred together during training when Lewis hit Ali so hard that he cracked a rib.
I know he's a good fighter.
Ali anticipates that it will be great fight but is making no predictions about an outcome.
Ali hopes to write a poem about Ireland before he leaves but admits to not knowing very much about the country.
All I know is that there's a lot of green here and I like everything green.
After speaking with Noel Andrews, Ali attends a press conference and answers questions from journalists about past and future fights.
On his previous fight with Joe Frazier, much to the amusement of journalists, he says
He was so ugly after that fight, they should have donated his face to the bureau of wildlife.
'Sports Final' broadcast on 11 July 1972. The reporter is Noel Andrews.