RTÉ photographer Tom Holton admits to being very much in awe of Muhammad Ali when he came to Dublin but it did not prevent him capturing some memorable images of the boxing icon.
Muhammad Ali was in Dublin to fight Al 'Blue' Lewis at Croke park in 1972. While here Ali gave two television interviews at the RTÉ studios Tom Holton was at both recordings and the fight to photograph one of the most famous men in the world.
Throughout his career, RTÉ photographer Tom Holton shot many famous people, however he considers Muhammad Ali to be the most famous person he ever photographed.
He was truly a legend and I've often felt the word was used loosely at times in reference to sports people, but in relation to Muhammad Ali it was very, very accurate.
When Ali arrived into the television studio there was a certain disbelief because he was a larger than life character that everyone knew from the media.
He was arguable the most famous person in the world at the time and suddenly I was standing in the same room as him.
Tom Holton was on set before during and after Michael O'Hehir's interview with Muhammad Ali for 'Sport in Action' and for the the interview between Ali and Cathal O'Shannon.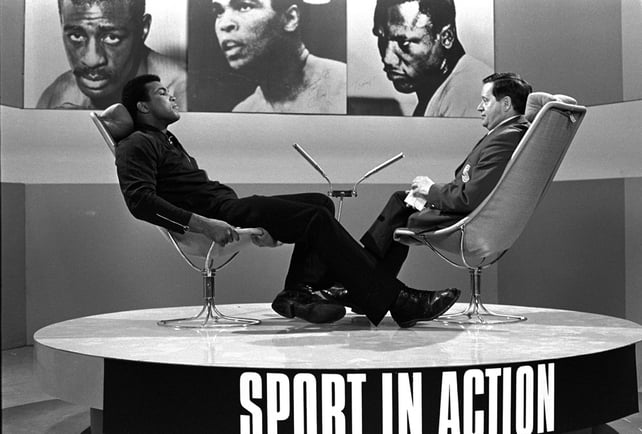 When Ali walked out on to the set there was almost a collective intake of breath from those present in the studio. Tom recalls Ali having an indisputable aura about him leaving those there feeling they were in the presence of a great man. In spite of Ali's arrogant public persona, Tom felt there was a gentleness to the man.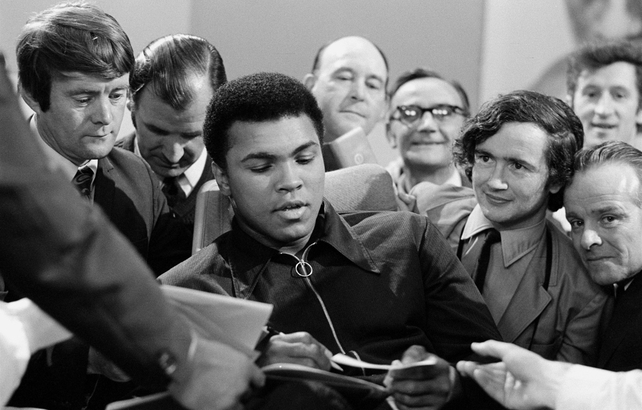 As Tom prepared to capture one image of Ali the fighter snarled at him,
You're only an amateur photographer
Tom could see the twinkle in his eye and felt much of Ali's hubris was devilment.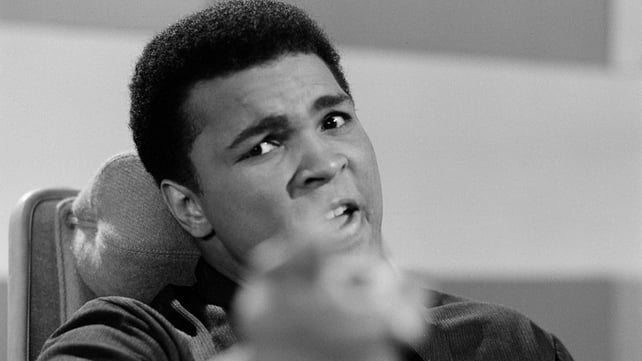 Tom photographed the fight between Muhammad Ali and Al 'Blue' Lewis at Croke Park and this was the first time he took pictures at a professional heavyweight boxing match. He was shocked by the savagery of two huge men trading punches and could feel the vibrations through the canvas floor of the boxing ring. Particularly when
Lewis hit the deck, it was really like the proverbial sack of spuds going down.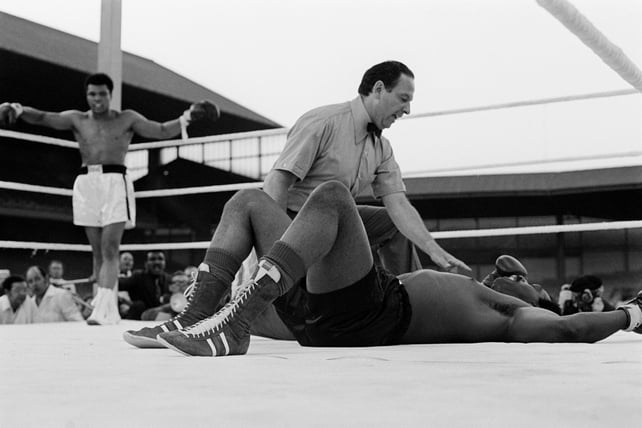 This interview with photographer Tom Holton was recorded by RTÉ Archives in 2006.