Marchers demonstrate over high levels of income tax and mass unemployment in Ireland.
In Dublin around 10,000 trade unionists and jobless people marched through the streets of Dublin to the Dáil ín protest at the Pay As You Earn (PAYE) tax system and the high level of unemployment.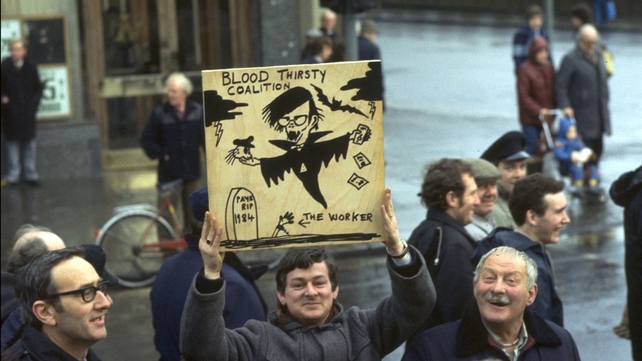 However, attendance numbers were down on the big marches of 1979 and 1980. Unlike in previous years there was no letter handed in at Government Buildings.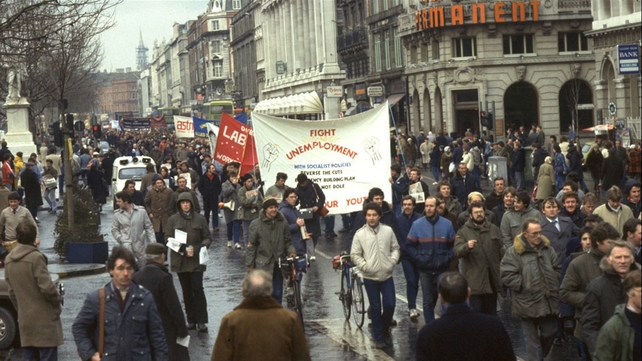 The pressures of massive unemployment and heavy taxation mean many people are confused about a clear strategy. This was evident at rally at the General Post Office (GPO) which followed the Dublin march with a section of the crowd heckling vice present of the Irish Congress of Trade Unions (ICTU) Matt Merrigan.
In his address ICTU general secretary Donal Nevin warned the government that the upcoming budget must deliver on the demands of ICTU
On jobs, on tax equity, on relief for PAYE workers and increases in social welfare.
In Cork about 2,500 marched far fewer than in previous demonstrations which attracted 70,000 in 1980 and 4,000 in 1983.
President of the Cork Council of Trade Unions Gus Connolly led the march and he addressed a rally outside the ITGWU headquarters at Connolly Hall. Attacking politicians, he called for a massive investment in Cork to tackle the problems in the city.
In a surprise move Ford workers opted against marching as a group. Instead, a small numbers of workers joined their various union leaders under separate banners.
In other parts of the country the numbers marching were even smaller than in Dublin and Cork.
An RTÉ News report broadcast on 20 January 1984. The reporters are Liam Cahill and Tom MacSweeney.