Rally and protest in Dublin against imbalances in the Irish taxation system.
Workers from the civil and public service gathered to protest against the PAYE tax system. They felt that as the burden of tax was falling most heavily on them, they were being discriminated against, while other sectors of the economy were not being taxed as strictly as they were.
A campaign to protest against the PAYE tax system had begun in 1979, organised by the trade unions. In the years that followed, marches against changes in the tax system were organised by the main trade unions in Dublin, Cork, Galway, and Limerick.
This news report shows protestors at a rally at the GPO in O'Connell Street. John Carroll of the ITGWU (Irish Transport and General Workers' Union) is critical of Minister for Finance Alan Dukes,
This uncaring government is so obsessed with balancing its books that it has completely ignored the havoc and the imbalance that its policies are causing throughout this country.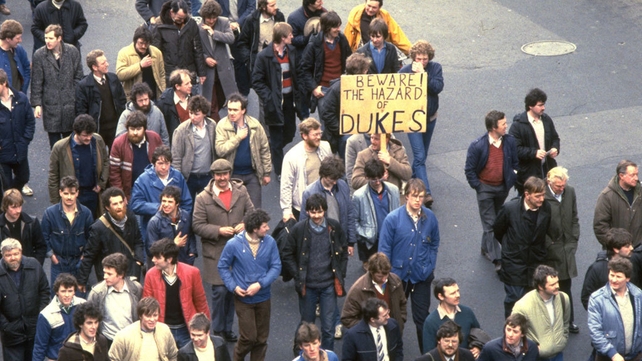 PAYE Protest in Dublin (1983)
Matthew 'Matt' Merrigan of the ATGWU (Amalgamated Transport and General Workers' Union) urged those present to continue with the campaign, and called for action,
Let this great campaign roll on. We want rolling stoppages ending up with a general strike. And then we'll see the power of working people at work.
An RTÉ News report broadcast on 13 April 1983.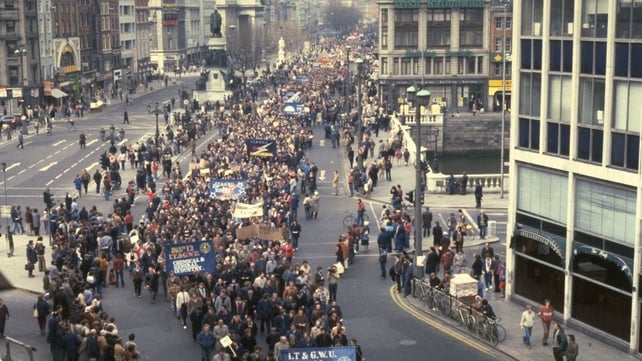 PAYE workers protest in Dublin (1983).