Thousands march calling for a more equitable tax system and for farmers and the wealthy to pay a fair share.
Across the country thousands of Pay As You Earn workers marched as protests called for reform of the tax system.
700,000 PAYE workers take to the streets in protest at a tax system which they believe bleeds the workers and ignores the wealthy.
In Dublin alone, approximately 350,000 men and women marched from Parnell Square to Government Buildings demanding a better deal for ordinary workers.
We want a more equitable taxation system.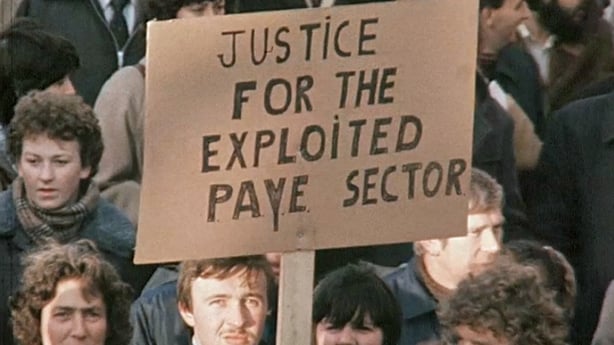 Many of the protesters interviewed in O'Connell Street Dublin want to see farmers pay their fair share of tax.
This campaign by workers is almost a year old and emerged when the government caved to farming lobbyists and failed to bring farmers into the tax net. The PAYE sector believes that they are holding a major share of the tax burden with the perception that the farmers get off very lightly. As anger increased among workers, they were mobilised by trade unions and took to the streets. Unions have met with Taoiseach Charles Haughey demanding action in the forthcoming February budget.
Today, the commercial and business life of the country ground to a halt as the workers downed tools in a historic display of strength.
This episode of 'Frontline' was broadcast on 22 January 1980. The reporter is Mary McAleese.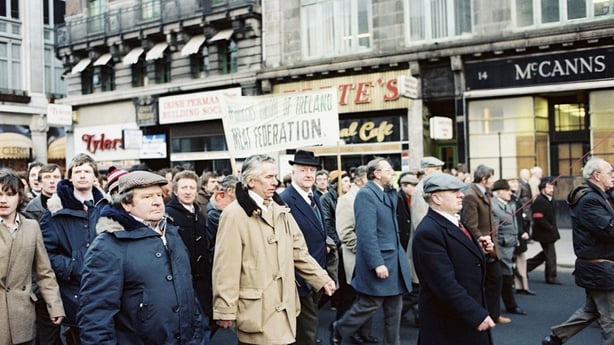 PAYE Protest on O'Connell Street, Dublin (1980)