Litton Lane Studios in Dublin offers a space for bands to rehearse and record and it has a dance studio.
Frequented by musicians of all genres, it provides an affordable and comfortable environment for artists to rehearse and record in. They also hire out drums, pianos and amplifiers anything a band needs. There is also the option to do a dance and exercise classes on the top floor, but bring your own leotard.
Rehearsing in one studio are Rocky De Valera (Ferdia Mac Anna) and the Rhythm Kings, with Leslie Dowdall of In Tua Nua. They find this space a very welcome addition to Dublin's music scene,
For a band like us, it makes us feel important to come here and have amps and PA systems laid on...it's cheap, economical, and it's not boring...
Singer Johnny Logan agrees,
It has everything that's needed for a rehearsal studio, it's the first one in the country, it's been badly needed for a long time...
Litton Lane is not just any old rehearsal space. Musicians can play in a proper studio to their heart's content, without breaking the bank,
You never had a rehearsal room, you were always doing in it some guy's basement flat or some guy's upstairs flat and every time you stopped you had the neighbours down on you. At least these rooms are soundproofed, they're economically viable for most bands.
This report for 'Ireland's Eye' was broadcast on 15 February 1983. The reporter is Carolyn Fisher.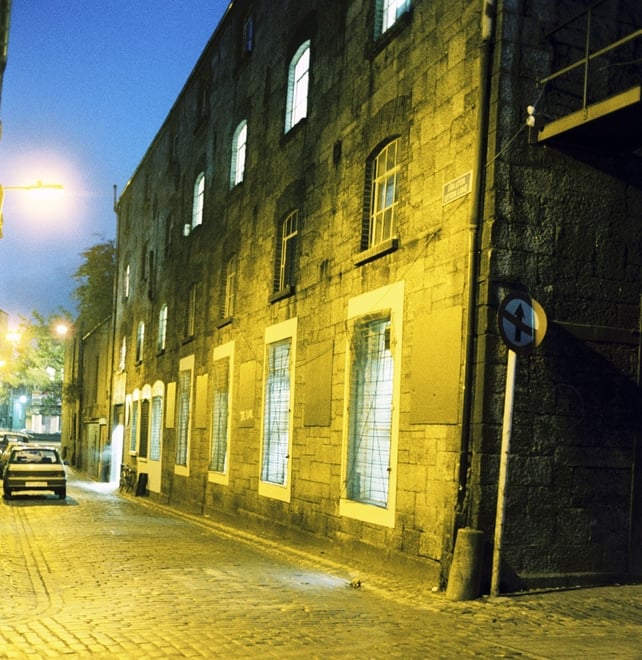 Litton Lane recording studios, Dublin (1991). Photographer is John Rowe.
'Ireland's Eye' was a Tuesday-to-Friday series with human-interest stories and features from locations throughout Ireland. First broadcast on 7 October 1980, the programme ran until August 1983.