Examining the power of music and the moral influence of pop culture on generations of Irish people.
This episode of Radharc looks at the impact popular music has had and continues to have on young people. Featured in the programme is pop star Joe Dolan and rock musician Rory Gallagher, whose song 'Messin With The Kids' inspired the programme title.
Reporting from a vinyl pressing plant Father Brian D'Arcy discusses the impact that pop music has on young people.
In Ireland today, one person in six has a record by the Swedish pop group ABBA, which is probably more people than have Bibles. That's the impact pop has.
Out of 3,000 singles released in Britain last year, only 340 of them were hits. According to Fr D'Arcy, this is an example of how cut-throat the music industry is. Fr D'Arcy provides some examples of the influence that pop music has on young people from the tartan wearing Bass City Rollers fans to the weak at the knees fans of singer and star of Starsky and Hutch David Soul.
When Punk Rock groups like The Clash or The Sex Pistols perform, the hundreds of unemployed young people who go to their concerts and listen to their songs know that those songs are the story of their lives because this is a pop generation.
According to D'Arcy, we now have three generations who are fed on pop culture.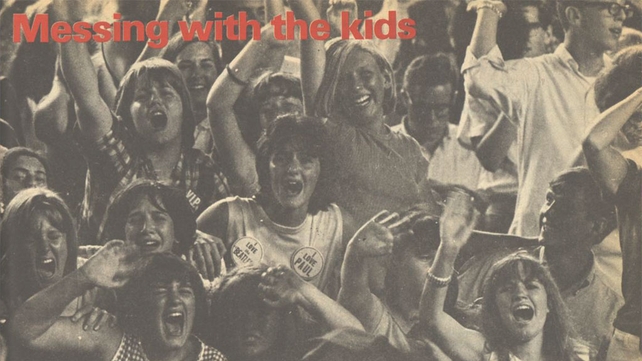 This excerpt from the programme shows Rory Gallagher performing 'Messin with the Kid' at the National Stadium in Dublin. However, not everyone is a fan and for many parents, the noise and confused world of pop really is messing with their kids.
With worldwide record sales in excess of ten million, Joe Dolan is an Irish success story on the pop music scene. After ten years in the music business, he is now able to enjoy the trappings of his success.
Joe Dolan is a household name among young people from Brazil to Borneo.
Joe Dolan puts much of his success down to good songs and luck.
'Radharc: Messing With The Kids' was broadcast on 25 July 1977. The presenter is Fr Brian D'Arcy and the programme was directed by Fr Dermod McCarthy.