The successful establishment of a men's sodality group in a Dublin city parish is something of a surprise.
Inner city Dublin is now far removed from a gentrified past. Living conditions are crowded, poverty levels are high and crime is common place in areas like Sean McDermott Street and Gloucester Street. The Radharc team visited the area where a news Men's Sodality group has been set up.
Fr Peter Lemass meets the men of the area to finds out about their lives and their involvement in the church.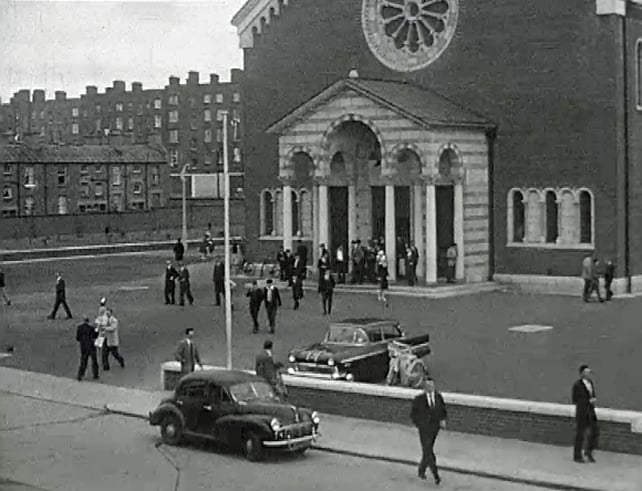 Glouchester Street Church (1962)
When there was a decline in membership of the local Men's Sodality group, a group of seven men set about recruiting new and lapsed members.
Preaching from the pulpit the local priest addresses the Sodality saying,
Well men, I want to congratulate you on the great success of this Sodality. You have brought this Sodality up from a hundred to a thousand in less than six months.
The Men's Sodality mass takes place at nine o'clock on the second Sunday each month, when the new church is now almost full to capacity.
Fr Peter Lemass meets some of the Sodality members after mass to find out why they got involved and what it means to them. He also meets Larry Corbally and Mr Cummins, two of the driving forces behind the revival, who describe how they encouraged new membership by going from door to door.
This film was part of the first episode of 'Radharc' broadcast on RTÉ Television on 12 January 1962. The first programme featured three reports filmed in Dublin, at Croagh Patrick and in county Donegal.
'Radharc', a series specialising in religious programming, was produced for RTÉ by Radharc, an independent production company run by Catholic priests and lay staff. 'Radharc' can be translated to English as 'view' or 'panorama'.
Co-founders Fr Joe Dunn and Fr Desmond Forristal who had received training in television production in New York in 1959 gathered around them a team of like minded priests with creative talent.
Between 1961 and 1996 the Radharc team would produce over 400 films in Ireland and 75 countries worldwide. The films dealt with human rights, injustice, faith, religion, persecution, struggles against oppressive regimes,famine, and Christian heritage.
The popular series ended production in 1996 after the death of Fr Joe Dunn.