Radharc make documentary films, but they also train priests and nuns in mass media and communications.
A look at the religious side of mass communications at the 'Radharc' Communications Centre in Dublin.
In the introduction to the programme, Father Peter Lemass says that the objective of the centre is to spread the Gospel
Through using the modern mass media of radio and television, film, and newspapers and magazines.
The Communications Centre not only produces 'Radharc' films but also acts as a training ground for those interested in learning about mass communications and mass media. The Communications Centre offers training courses in television, film, radio, and journalism, all of which are delivered from a religious angle.
The film, which takes a behind the scenes look at all aspects of media, shows nuns, priests and missionaries at work and in training at the centre.
Taken from the first in a two-part programme on communications in the Church, this episode of Radharc was broadcast on 1 May 1970. The narrator is John Wall.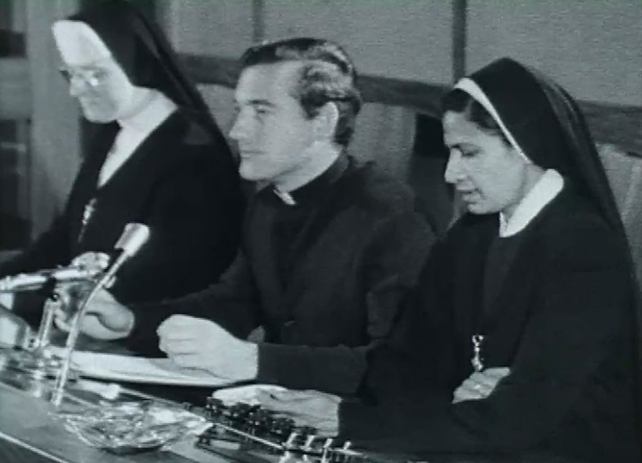 Nuns and Priests in Training at the Radharc Communications Centre
'Radharc', a series specialising in religious programming, was produced for RTÉ by Radharc, an independent production company run by Catholic priests and lay staff. 'Radharc' can be translated to English as 'view' or 'panorama'.
Co-founders Fr. Joe Dunn and Fr. Desmond Forristal who had received training in television production in New York in 1959 gathered around them a team of like minded priests with creative talent.
The 'Radharc' team made their first production in 1960 in Donegal, a short film about customs relating to St Brigid's Day. The first programme in the 'Radharc' series for RTÉ was broadcast on 12 January 1962.
Between 1961 and 1996 the Radharc team would produce over 400 films in Ireland and 75 countries worldwide. The films dealt with human rights, injustice, faith, religion, persecution, struggles against oppressive regimes, famine, and Christian heritage.
The popular series ended production in 1996 after the death of Fr Joe Dunn.