Current craze in Japan amongst Buddhists and Shintoists for marrying in Christian churches.
On average each missionary in Japan influences one adult to convert every two-and-a-half years, according to this Radharc documentary on the growing obsession with Christian weddings in Japan. In their efforts to make more contact with Japanese society, missionaries are now accepting requests for church marriages from couples who are not Christian but who may have seen western-style weddings on television, and want to be married in the same way.
The growing Japanese demand for church weddings is heavily influenced by wedding scenes from American films, as well as the international media attention given to weddings of famous people like Prince Charles and Princess Diana.
The documentary 'Radharc: Down the Aisle, Japanese Style' looks at the role of Christianity in Japan and asks the question "Is the church just pandering to popular sentiment?"
Father Dan Horgan, one of the many Christian missionaries in Japan, provides an insight into these new wedding practices.
This film was made by Fr. Joe Dunn with the assistance of Fr. Jim Caffrey.
'Radharc: Down the Aisle, Japanese Style' was broadcast on 28 March 1985.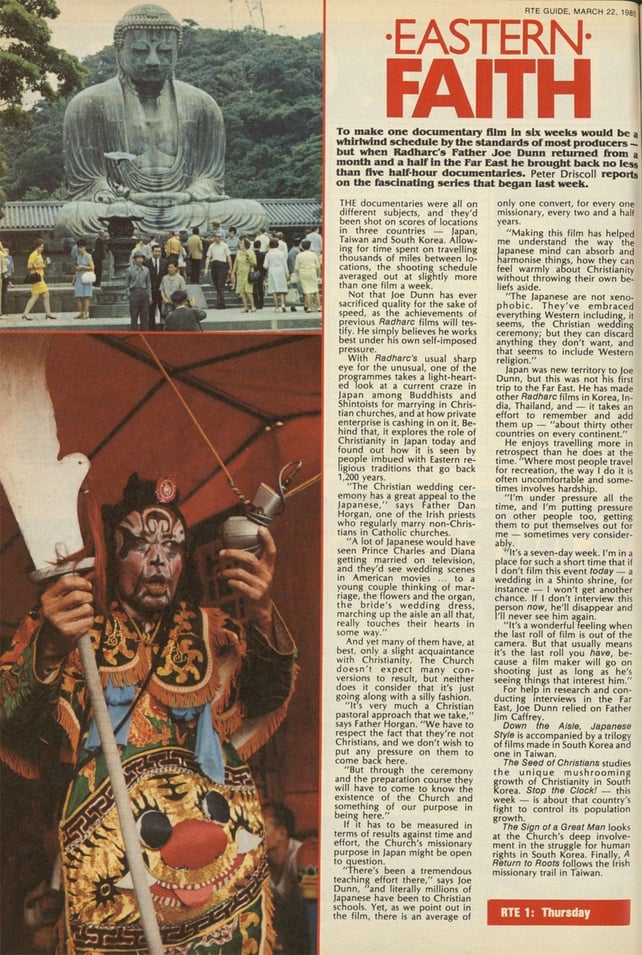 RTÉ Guide 22 March 1985 p.15