The church is embracing new communication methods to get its message across and sees television as a useful educational tool.
There is a transition occurring from traditional print media to more modern forms of mass communications within the church in Ireland. It is no longer enough to use the pulpit and the printed word to promote the message of the church.
The church must ensure that it never fails to communicate its message.
The Vatican Council decree on the media of social communications ordered that national offices for press, cinema, radio and TV be organised. 'Newsbeat' visits the Radharc Communications Centre on Booterstown Avenue in Dublin.
A place to teach the clergy and missionaries what television is all about.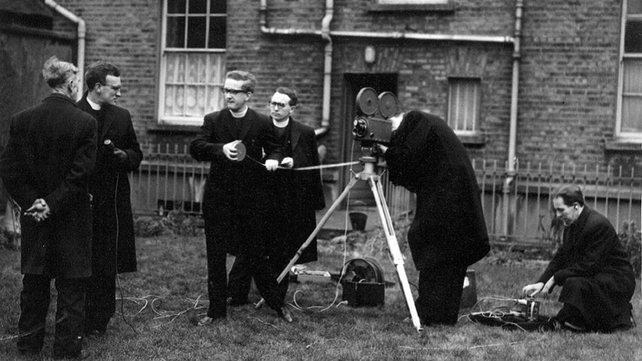 Radharc Communications
The communications centre is a place where the clergy and missionaries can learn what new forms of mass media are all about. Priests and nuns learn practical skills in how to use a studio camera, direct a production, write scripts, produce shows and use audio visual equipment. Among the participants is Fr Dermod McCarthy.
Father Joe Dunn is head of the Communications Centre and says that the church should be interested in new media as a means of communicating its message and how it fits into teaching the gospel. Fr Joe sees the development of television as an educational tool in both developed and developing countries and envisages that in 20 years time, television will saturate even the most isolated parts of the world through the development of satellites, transistors, and micro-circuits.
Everybody will be using television as an entertainment medium and more important, a lot of people are going to be using it as an educational tool.
Fr Peter Lemass, Assistant Head of Training, talks about the skills acquired during a training course at the centre and the practical outcomes for course participants.
This episode of 'Newsbeat' was broadcast on 26 April 1967. The reporter is Cathal O'Shannon.
'Newsbeat' was a half-hour feature programme presented by Frank Hall and ran for 7 years from September 1964 to June 1971.
'Newsbeat' went out from Monday to Friday on RTÉ television and reported on current affairs and issues of local interest from around Ireland. The final programme was broadcast on the 11 June, 1971.
The final programme was broadcast on the 11 June, 1971.