What is the place of mission preachers and the parish retreat in the contemporary Catholic Church?
In this episode of 'Radharc' Father Ralph Egan looks at the problems of the modern retreat-giver and suggests some of the ways in which the retreat of the future will have to differ from that of the past.
In rural Ireland the missions take place approximately every five years Father Ralph Egan travels to the midlands of Ireland to give a retreat.

Since Father Egan began giving retreats in 1959 a lot has changed for Ireland. There has been two new popes, the coming of television and the emergence of a more permissive society. All of these factors have affected the popularity of the missions. As times have changed, so too has the approach of Father Ralph to preaching.
I try to get away from those old sermons and one thing I try to do is stress the scriptures and their basic ideas.
While the sermons have been brought up to date, some traditions remain such as the purchase of pious objects at mission stalls outside the church.
'Radharc: Parish Retreat', presented by Fr. Peter Lemass and Fr. Ralph Egan, was broadcast on 2 Feburary 1971.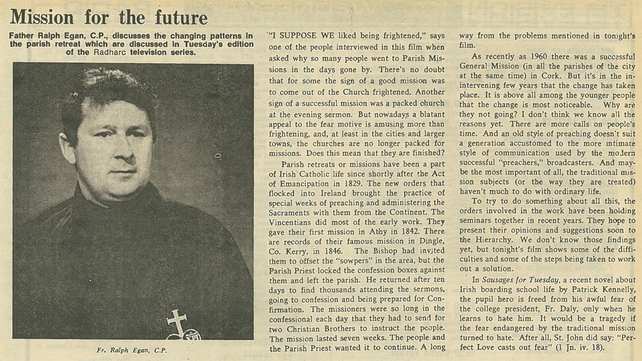 RTÉ Guide 29 January 1971
'Radharc', a series specialising in religious programming, was produced for RTÉ by Radharc, an independent production company run by Catholic priests and lay staff. 'Radharc' can be translated to English as 'view' or 'panorama'.
Co-founders Fr. Joe Dunn and Fr. Desmond Forristal who had received training in television production in New York in 1959 gathered around them a team of like minded priests with creative talent.
The 'Radharc' team made their first production in 1960 in Donegal, a short film about customs relating to St Brigid's Day. The first programme in the 'Radharc' series for RTÉ was broadcast on 12 January 1962.
Between 1961 and 1996 the Radharc team would produce over 400 films in Ireland and 75 countries worldwide. The films dealt with human rights, injustice, faith, religion, persecution, struggles against oppressive regimes, famine, and Christian heritage.
The popular series ended production in 1996 after the death of Fr Joe Dunn.