Sir Tyrone Gutherie's house at Annaghmakerrig near Newbliss, County Monaghan is to be made into a centre for artists of all kinds.
Theatre Director, Sir William Tyrone Guthrie, died in 1971 leaving his home at Annaghmakerrig House to the State as an artist's retreat. Since opening its doors in 1981 the centre has hosted thousands of artists from around the world. With Guthrie's reputation as an innovator, it is now appropriate that Annaghmakerrig fulfills a creative role as his memorial.
The centre is run by a board appointed by the Arts Council and artists can stay in residence at the centre for periods of three weeks to three months, with a room for a painter, a musician and nine other rooms for writers.
Centre director Bernard Loughlin points out that
It's open to practitioners of all the arts.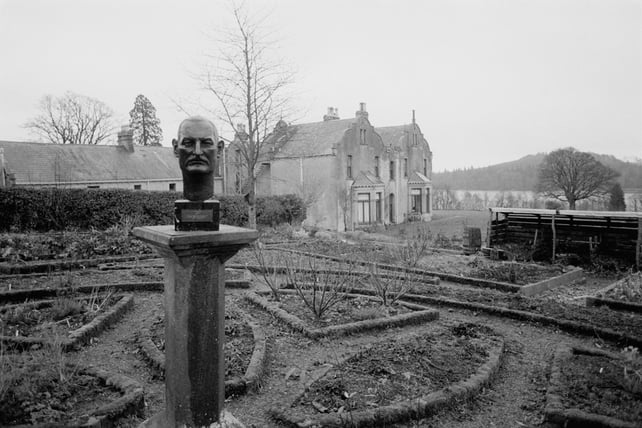 Tyrone Guthie Sculpture at Annaghmakerrig, Co. Monaghan
Novelist Mary Lavin believes Annaghmakerrig will be a very conducive environment for writers and artists to work in.
Freedom from responsibility... There's no pressure, no telephone, nothing that you have to do ... but do your work
An RTÉ News report broadcast on 18 August 1981.
Annaghmakerrig House opened to the first residents on 10 October 1981.