As audiences decline and illegal video consumption is on the increase three cinemas in Dublin are to be sold.
Three Dublin cinemas, the Savoy, the Odeon and the Metropole are to be sold at auction by their owners the Rank Organisation.
The future of cinemas everywhere is uncertain due to a decline in audiences and the ongoing video boom. To meet the demands of audiences some years ago Dublin cinemas the Savoy on O'Connell Street, the Odeon on Eden Quay and the Metropole on the corner of Hawkins Street and Townsend Street were converted to increase the number of screens. However, there is now a resurgence in widescreen films and these are more suited for screening in big, old-style cinemas.
Irish cinema audiences are declining less than in Britain partly because there are so many 18 to 25-year-old people, at whom most modern films are aimed. Therefore, estate agents, Lisney and Son expect the properties to be sold as going concerns as they are still profitable.
As Ireland has only a handful of cinema operators, speculation is that the Green Group will be the most likely bidder as they already own Dublin's Green cinema and a provincial chain.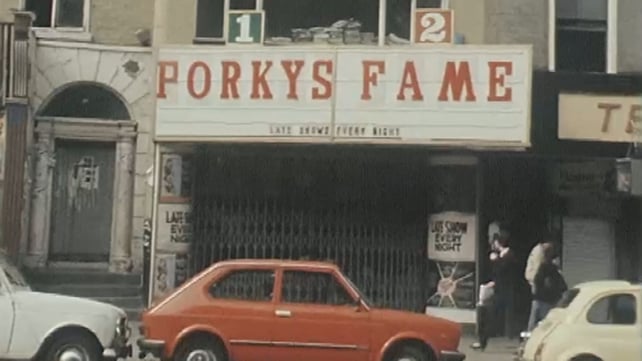 The buildings for sale are valued at £3 million as cinemas, which is a big outlay for a trade offering a small return on capital.
Either way a change of ownership for the Savoy may bring back into business the least known part of that sprawling complex, the only pub in O'Connell Street.
An RTÉ News report broadcast on 11 September 1982. The reporter is Pat Sweeney.