An exhibition celebrating 75 years of the electric guitar opens at the National Museum of Ireland.
'RockChic' features over 100 guitars owned and played by artists such as Jimi Hendrix, Phil Lynott, Marc Bolan and Van Morrison. It also has a special collection of guitars belonging to Irish electric guitar pioneer Rory Gallagher.
Whether you prefer to listen to Sinatra or Slipknot, Noel Gallagher or Rory Gallagher, the electric guitar has played a central role in the development of the music we all listen to today.
Director at the National Museum of Ireland Pat Wallace describes the centre point of the exhibition as the so-called 'Frying Pan' guitar made in the USA in 1931, the first electric guitar in the world.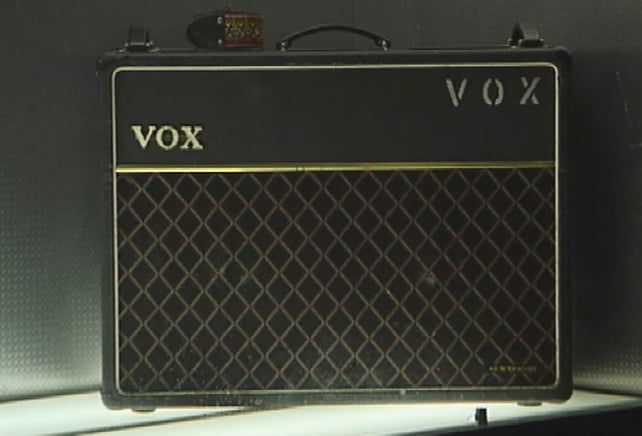 Vox Amp at Guitar Exhibition (2006)
Each county is represented by one of 32 guitars from Ireland - the principal guitar being Rory Gallagher's 1961 Fender stratocaster, which the musician's brother Donal describes as "his pride and joy". He recalls the moment that Rory spotted the guitar in Michael Crowley's shop window saying that,
Buddy Holly's guitar had arrived in town.
The exhibition also includes a number of specially designed guitars. 2FM DJ Dave Fanning commissioned street artist Rasher to design one which would be auctioned for charity.
An RTÉ News report broadcast on 23 November 2006. The reporter is by Paddy McKenna.