Californian singer, songwriter, and actor Tom Waits is a guest on The Late Late Show.
Introducing Tom Waits, Gay Byrne asks him about the background to his writing.
All your songs Tom seem to be about a sort of a seedy way of life. How come?
Seated at a piano, a somewhat reluctant but humorous interviewee, Tom Waits talks briefly about his childhood, growing up in California and how he got into music.
Responding to a question about when he started writing he says
I was born at a very young age, and I actually didn't start writing until I was in my teens.
Refuting myths of a hobo lifestyle he says
Actually I'm a very happily married man. I don't go out much at all. I used to stay out late.
Gay Byrne also speaks to Tom's wife, Kathleen Brennan who is sitting in the audience. Kathleen talks about her Irish roots, and how she met Tom. Joking she says,
I was a nun and he fell asleep in the church and I woke him up.
In fact they met at Coppola Studios where Kathleen was working as a story analyst and Tom Waits was recording. Kathleen talks about her fondness for Tralee, County Kerry where the couple have spent time. Tom Waits had been recording at Ballyseede Castle.
This episode of 'The Late Late Show' was broadcast on 21 February 1981. The presenter is Gay Byrne.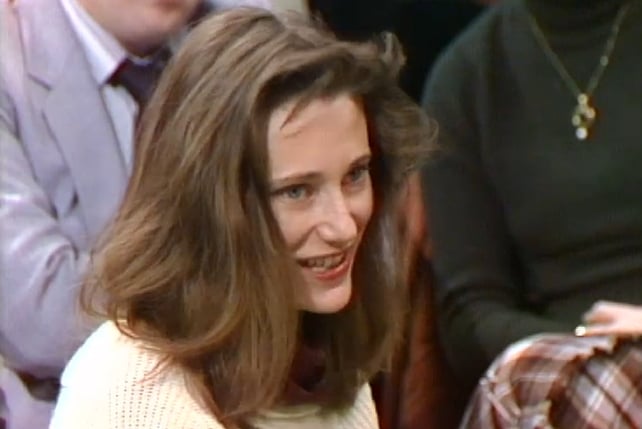 Kathleen Brennan (1981)