On 28 October 1994, Sinn Féin president Gerry Adams was interviewed on 'The Late Late Show' for the first time.
Gerry Adams was in Dublin to attend the Forum on Peace and Reconciliation.
Adams is introduced by Gay Byrne as "the most controversial man in this country", an introduction which Adams disputes.
Following the programme there was much comment made of Gay Byrne not shaking Gerry Adams's hand.
Gay Byrne questions Gerry Adams about the opportunity for peace, Bobby Sands, and imprisonment. Later in the show Adams was joined by a panel including Austin Currie, Dermot Ahern, Jim Kemmy, Michael MacDowell and Hugh Leonard.
This episode of The Late Late Show was broadcast on 28 October 1994. The presenter is Gay Byrne.
Under Section 31 of the Broadcasting Act it was forbidden to broadcast interviews with members of organisations which "engage in, promote, encourage or advocate the attaining of any political objective by violent means".
Section 31 was repealed by Minister Michael D. Higgins in January 1994.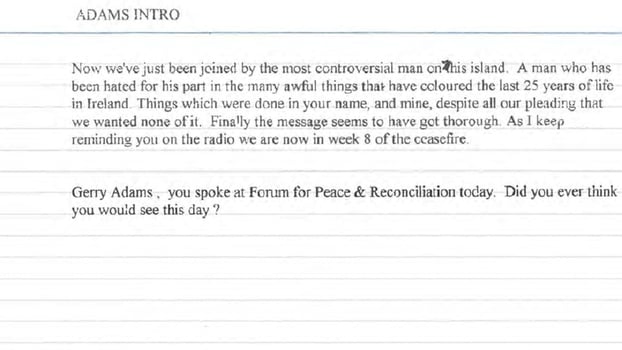 Interview notes and a cue card from Gerry Adams interview used by Gay Byrne on 'The Late Late Show'.