The first All-Ireland Drama Festival was held in Athlone in April 1953 and has been sponsored by RTÉ since 2004.
From 1975 a look behind the scenes at the All Ireland Drama Festival in the Dean Crowe Hall in Athlone, Co. Westmeath. This Newsround report features the previous year's winners 'The Moat Group' from Naas, Co. Kildare, who are hoping to take the title for the second year running. The 1975 adjudicator Alan Nichol from Scotland, who states
I see Athlone as the premier festival of Europe because of the competition and the enthusiasm and the fight to get to Athlone.
Ciaran Rigney, one of the more experienced actors spoke about the festival while in make-up ahead of his performance.
Another experienced actor, Kitty Norton, also talks about the first night nerves, and comments
We haven't a hope of winning, but we'll try.
Director Dermot McNamara talks about preparations for the Moat Group's opening night of the play 'School for Scandal' by Richard Brinsley Sheridan.
The audience on the opening night includes members of the many other drama groups who are in competition to win this years title.
A Newsround report broadcast on 20 April 1975.
For more details on the festival visit dramafestival.ie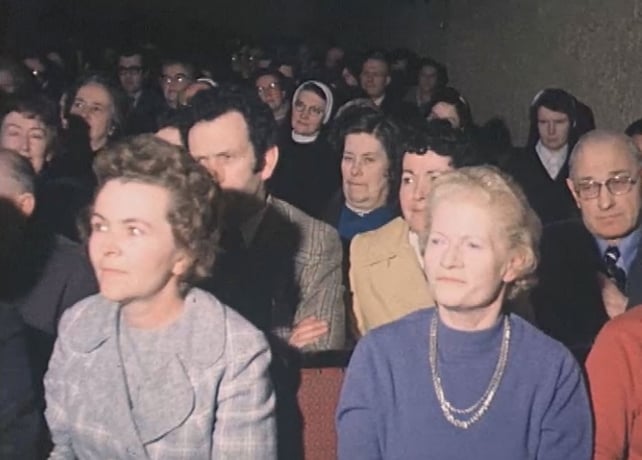 Audience at the All Ireland Drama Festival (1975)