Out On The Western Plain with rock and blues musician Rory Gallagher on The Late Late Show.
Rory Gallagher was in Dublin to perform three concerts at Dublin's Olympia Theatre, before moving on to Belfast. In this performance for The Late Late Show he plays 'Out On The Western Plain' on acoustic guitar.
In his introduction, presenter Gay Byrne describes him as,
One of the world's finest guitar players, he naturally mixed and played with the world's greats, The Doors, Jimmy Hendrix, Eric Clapton.
The Self Aid concert in May 1986 had been one of Rory Gallagher's most notable Irish performances in recent years. Following that he departed for the United States, touring there, and then in Europe.
In 1987 he was back in Ireland, and his concert at the Cork Opera House in November of that year was recorded and broadcast on RTÉ television on 30 December 1987 under the title 'Messin' With The Kid - Rory Gallagher In Cork'.
This episode of The Late Late Show was broadcast on 12 February 1988. The presenter is Gay Byrne.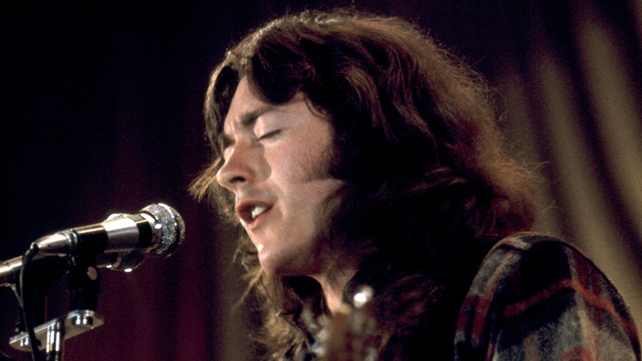 Rory Gallagher (1982)