Playing a 1933 guitar in the surrounds of the Shelbourne Hotel, Dublin, Rory Gallagher talks about the latest trends in music, and the alternative scene.
There's so much formula now and so much microchip music that it's getting a bit too... sort of one dimensional. I like music with a bit of warmth and humanity in it.
Rory Gallagher has achieved considerable success in the USA with his brand of blues and rock and has just completed his 21st tour, playing everywhere from the small clubs of the college circuit, to the the big open air gigs which he finds more challenging. His success is also evident across Europe, having recently performed a concert in Germany which was televised throughout Europe to 25 million people.
Rory Gallagher performs a solo acoustic version of the song "Ride On Red, Ride On".
This interview took place on 19 July 1983 and was broadcast as part of the programme 'Ireland's Eye' on 3 August 1983. The reporter is Carolyn Fisher.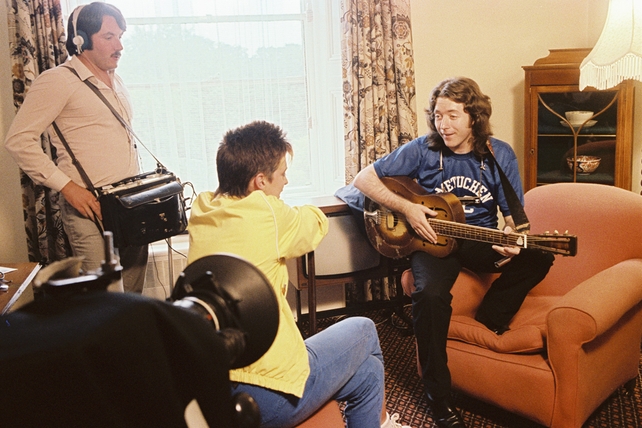 Rory Gallagher, Carolyn Fisher and Joe Ó Dúill on sound. Photograph by John Cooney.