The Englishman in New York talks about his childhood, his sexual identity and his eventual move to America.
In this excerpt from the show Quentin chats to Gay Byrne about growing up in England and his eventual move to New York. He explains that his objective is to explain to his audience how to be happy, and attempts to rid people of prejudice.
I start out each day without any prejudices, without any preconceived ideas. I start with each person, all over again, every day.
He also comments on notions of triumph and failure in life, and attitudes to sex growing up in England.
I never came out because I was never in...

It was just hoped I'd grow out of it.
On the differences between life and relationships in England and America he says,
In America, three weeks is a meaningful relationship.
Quentin Crisp was made famous by his 1968 book 'The Naked Civil Servant' and was also a prominent gay rights campaigner. The title was inspired by Crisp's time as a nude art model. Crisp argues that nude models are employed by schools, which are controlled by the Department of Education, making them civil servants.
Other guests on the show that night included Trinity Senator David Norris and entertainer Faith Brown.
This episode of The Late Late Show was broadcast on 20 April 1985.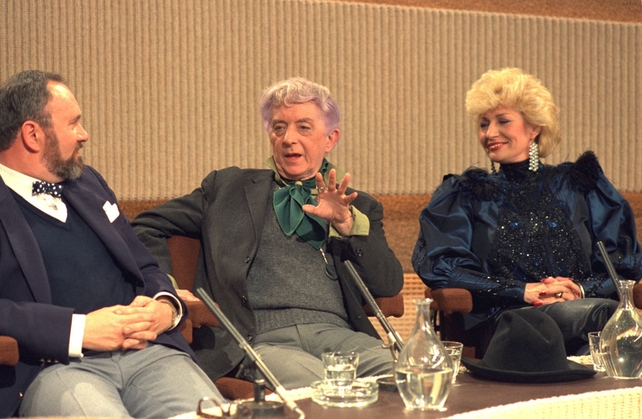 David Norris, Quentin Crisp and Faith Brown (1985)
Born Denis Charles Pratt in Surrey, England in 1908, Quentin Crisp died in 1999.