Paul Daniels opens The Late Late Show with some magic.
Paul Daniels has a go at presenting The Late Late Show impersonating the usual host Gay Byrne.
Never in the history of the programme have I had this applause. There must be a reason.
With the aid of audience members, Simon from Sutton and Tom from Longford, the magician and entertainer demonstrates the fastest card trick in the world.
Following this unconventional start to the show, Paul Daniels introduces the first guest himself.
One of the finest entertainers they've got at the moment discounting Wogan.
Gay Byrne finally appears in the studio and assumes his role as the host of the show.
This episode of The Late Late Show was broadcast on 23 February 1985. The presenter is Gay Byrne.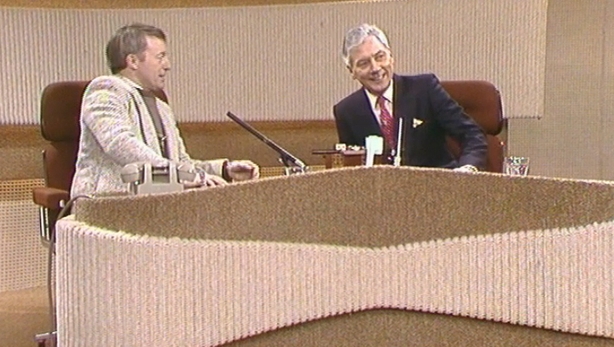 Paul Daniels and Gay Byrne on The Late Late Show (1985)