Entertainer Cilla Black has achieved success in the charts, on television, panto and theatre and continues to enjoy her work.
In more recent times Cilla Black is most famous for presenting the television programmes 'Surprise, Surprise' and 'Blind Date', getting twenty million viewers a week.
Cilla Black is humble about her success and says she performs for the studio audience oblivious to how many people are actually watching from the comfort of their own homes.
I never think anyone else is watching on the other end of the camera.
In Dublin while filming an episode of 'Surprise, Surprise' Cilla cannot really talk about it because as the title says it is supposed to be a surprise. All will be revealed when the next series starts in March.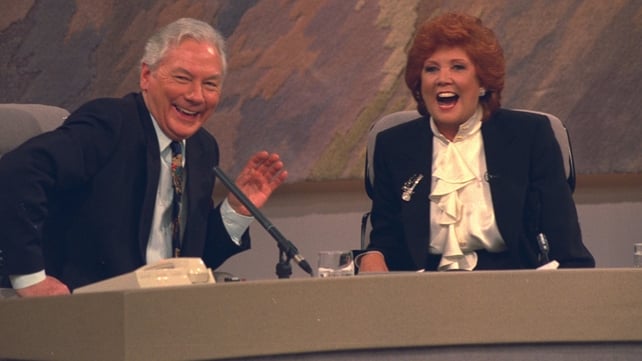 Gay Byrne and Cilla Black on The Late Late Show (1994)
Cilla also talks about a hat that she wore for a wedding which divided public opinion. The hat was designed by Irish milliner Philip Treacy.
I loved that hat but the hat hated me.
On the subject of fame and stardom, Cilla says that the public and media attention that she receives is all part and parcel of a job in the spotlight and is very much of the philosophy
If you can't stand the heat, get out of the kitchen.
This episode of the Late Late Show was broadcast on 18 February 1994. The host is Gay Byrne.