Liverpool singer, actor and all round entertainer Cilla Black talks family and career.
Host Gay Byrne and Cilla Black reminisce about about their younger years and Cilla jokes about Gay's grey hair.
You're absolute living proof that Grecian 2000 does not work.
Almost twenty years has passed since they last met. Cilla Black now has three sons,
Our Robert, Our Ben and Our Jack.
Cilla Black puts staying grounded despite her fame down to how she was brought up.
It's not really that you change. It's people change towards you.
She also talks about her much loved Scouse accent and gives a few examples of colloquial Merseyside fighting talk,
Who knitted your face and dropped a stitch?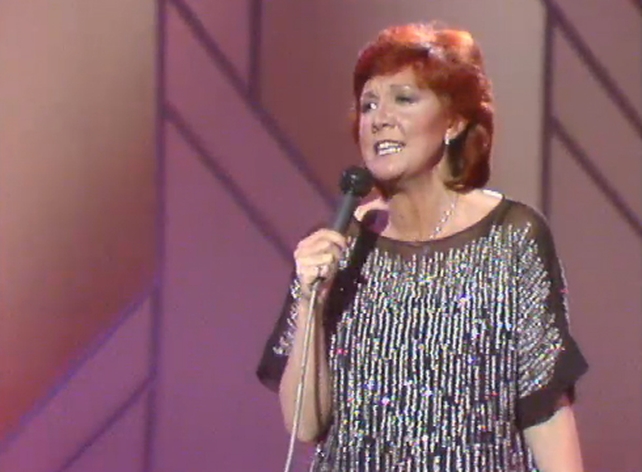 Cilla Black performs on The Late Late Show in 1982
Cilla Black met her husband Bobby when she was 16 and they have been together for 22 years.
I saw this lovely fella with a tan and I thought with this blonde hair he's either foreign or he's got money. And when he spoke, I thought he's definitely got money.
Cilla Black was also friends with The Beatles, as they were both managed by Brian Epstein. She talks about hearing about the death of John Lennon, with whom she was very close.
If she had not pursued her current career, Cilla Black says,
I think I would've been a hairdresser. I love fiddling with hair.
She used to do Ringo Starr's mother's hair in exchange for spam and chips. Her own trademark red hair came from a bottle at the age of 13.
In Dublin for a series of concerts at the National Concert Hall Cilla Black sings 'You Needed Me', a song written by Anne Murray.
This episode of 'The Late Late Show' was broadcast on 23 January 1982. The presenter is Gay Byrne.