Diarmuid Peavoy reports from the 37th Yeats Summer School in Sligo Town where he meets Yeats enthusiasts from far and wide.
English artist Andrew Wilson has been commissioned to paint a mural depicting the life of poet WB Yeats on the window of the Winding Stair bookshop in Sligo Town.
Also in Sligo for the Yeats Summer School are 150 students and scholars from 14 countries. The school is run from the Yeats Centre and is now in its 37th year. Maura McTighe President of the Yeats Society says
Without Yeats I don't know whether we would really be on the map.
Director of the Yeats Summer School and an avid Yeats enthusiast is Professor Ronald Schuchard who says,
I never tire of picking Yeats up.
The appeal of Yeats extends beyond the English speaking world with a strong Japanese contingent at this year's school. Rika Otsu, a student from Tokyo, recites her favourite lines of Yeats' poetry. Professor Masaru Sekine, also from Japan, directs a workshop for a Yeats play in the Japanese tradition of 'no theatre' and explains the background behind Yeats' connection with Japan and poetic theatre.
Mary McGowan from Strafford Upon Avon is one of the Yeats School's most loyal supporters and has been coming to Sligo for twenty six years.
It's Yeats and the place that I find very attractive and to come back here once year is a great pleasure to me.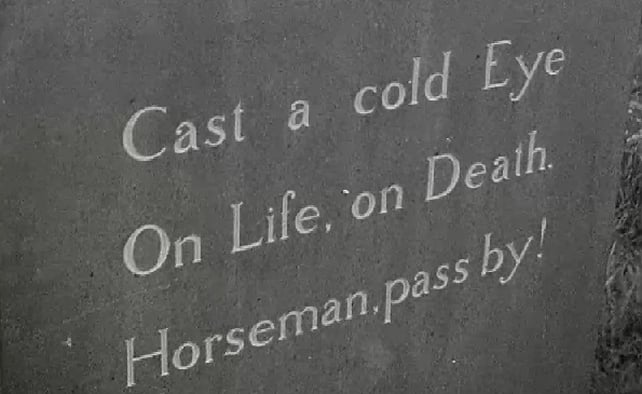 Yeats' Epitaph
DiarmuidPeavoy also visits Yeats' final resting place where his epitaph reads
Cast a cold Eye
On Life on Death
Horseman passby
A 'Nationwide' report broadcast on 14 August 1996. The reporter is Diarmuid Peavoy.