The Yeats International Summer School has as its theme William Butler Yeats' poetry, plays and prose.
The 21st annual Yeats International Summer School took place in Sligo Town Hall from 9-23 August 1980. Over 150 students attended the opening and were greeted by the Lord Mayor of Sligo, Councillor Tony McLoughlin. The opening lecture was given by Irish writer Dr Denis Johnston.
For the duration of the school, an exhibition of available Yeatsian work by Irish artist Louis le Brocquy was arranged by the Sligo Art Gallery.
As always one of the highlights is a visit to Drumcliff churchyard, the final resting place of WB Yeats. His grave is marked with a simple headstone inscribed with Yeats' self penned epitaph:
Cast a cold eye on life, on death, horseman, pass by.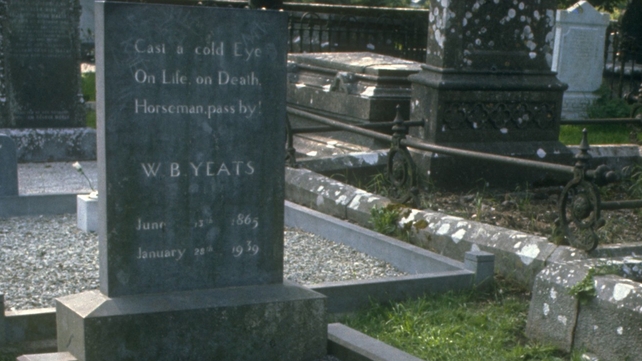 Grave of WB Yeats
An RTÉ News report by Charlie Bird broadcast on 11 August 1980.