Máire Mhac an tSaoi, Leanbh Deoranta i nDún Chaoin
Poet, diplomat and Irish language scholar, Máire Mhac an tSaoi is interviewed in television's Writer in Profile by Seán Mac Réamoinn on 8 April 1970. In this extract, she talks about her relationship with the Corca Dhuibhe Gaeltacht in Kerry.
Rugadh Máire Mhac an tSaoi i mBaile Átha Cliath sa bhliain 1922 ach tógadh í i nDún Chaoin freisin. Labhrann sí le Seán Mac Réamoinn faoin gcéad uair riamh a chuaigh sí ann.
To coincide with the broadcast of the programme a feature appeared in the RTÉ Guide in which Seán Mac Réamoinn discusses her work.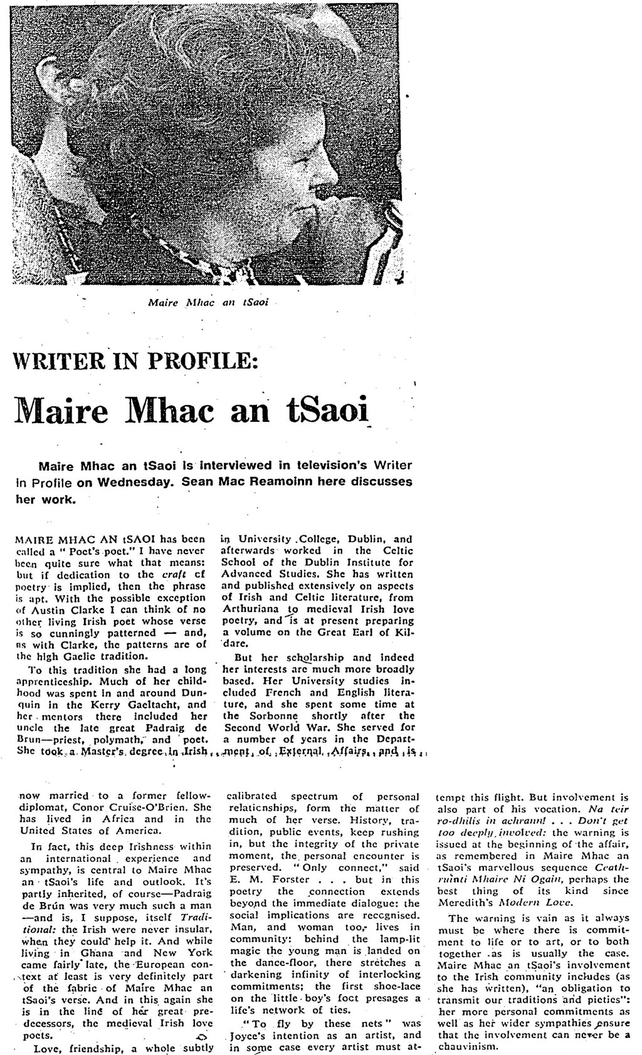 RTÉ Guide, 3 April 1970, p.13
'Writer in Profile' was a weekly series presenting interviews with well-known Irish writers. The first episode was broadcast on 29 October 1968 and featured the writer Sean O'Faolain.