Austin Clarke had a long association with RTÉ, beginning in 1939 with weekly poetry broadcasts.
According to the RTÉ Guide, "his voice on the air became synonymous with poetry, a voice which 'could be tender, throaty, melancholy, gravelly, hesitant, husky" (16 April 1976, p. 12).
The RTÉ Guide was previewing 'Austin Clarke: Poet on the Air', one of a series of commemorative programmes about Irish radio. It was presented by fellow-poet Brendan Kennelly and included interviews with critics and poets about Clarke as well as archive recordings of Clarke himself. 'Austin Clarke: Poet on the Air' was broadcast on Easter Sunday, 18 April 1976.
In this extract, Austin Clarke recalls his childhood in Dublin during the early 1900s.
The poet and broadcaster Austin Clarke died on 19 March 1974. He is known to generations of Irish schoolchildren as the author of the poem 'The Planter's Daughter', which features in a long-running Bord na Móna ad.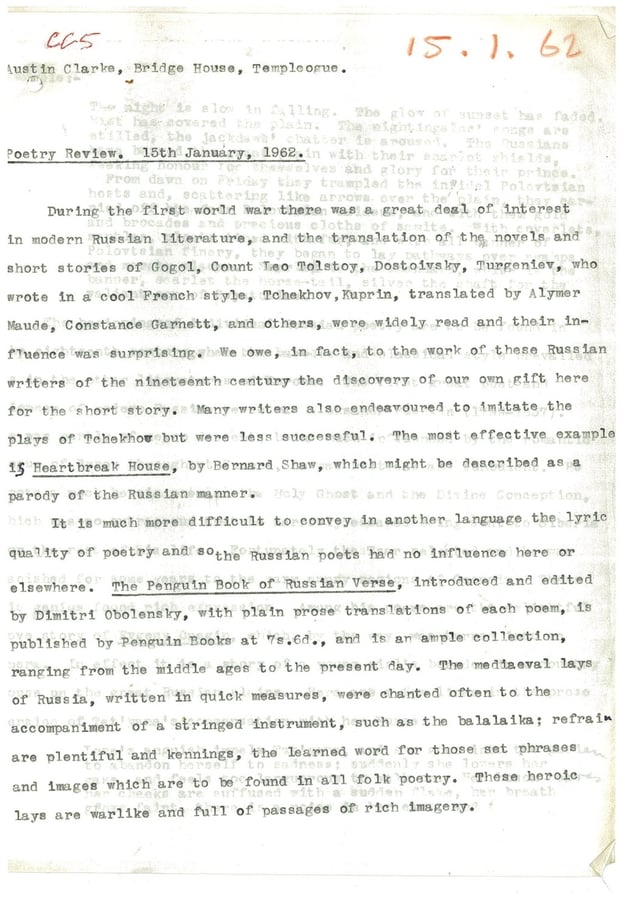 Page from an Austin Clarke Script for 'Poetry Review', 1962