Take a trip with a Dublin bus driver through the streets of the city.
A journey along the quays, up to Christchurch, down Lord Edward Street, on to Dame Street, Westmorland Street and ending at D'Olier Street. Inspector Malone explains the training process and the qualities required to be a bus driver.
Many changes have taken place around Dublin since this programme was filmed. One of the more obvious changes is the vision of Nelson's Pillar which can be seen from the junction of Westmoreland Street and D'Olier Street.
This episode of 'Discovery' was broadcast just weeks before Nelson's Pillar was bombed on 8 March 1966.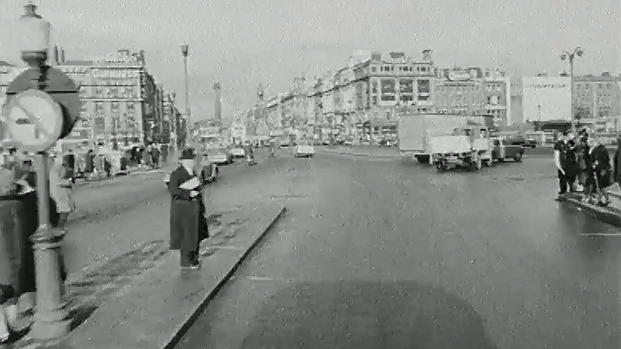 View of O'Connell St, Dublin from Westmoreland Street
Other obvious changes to the city include a pre-developed Wood Quay and the site where the Central Bank now stands on Dame Street.
This episode of 'Discovery' was broadcast on 14 February 1966.
'Discovery' was a documentary series broadcast on RTÉ between 1964 and 1967. 'Discovery', which first aired on Tuesday, 14 January 1964 touched on many aspects of Irish life with an occasional spotlight on events of particular interest.