A look at 'Cúrsaí Ealaíne', the television arts programme that was broadcast from 1994 to 2000. 'Cúrsaí Ealaíne' was particularly noted for its coverage of the visual arts.
This report on the visual arts scene in Belfast is from 10 December 1995.
Deir láithreoir Harry McGee go bhfuil borradh nua tagtha ar ealaíon radharcach sa chathair. McGee meets some young artists in the city, including Aisling O'Beirn, who uses bottles, plaster and plants to explore issues of architecture and post-colonialism. Cheap rents have helped attract artists to Belfast. McGee visits the Catalyst Arts Gallery and the Ormeau Baths Gallery to see some of the cutting-edge work being created. There are also organisations such as Exchange Resources, that help expose artists to what's happening in other countries.
Dar le McGee go bhfuil dóchas nua le brath i gcúrsaí ealaíne i mBéal Feirste.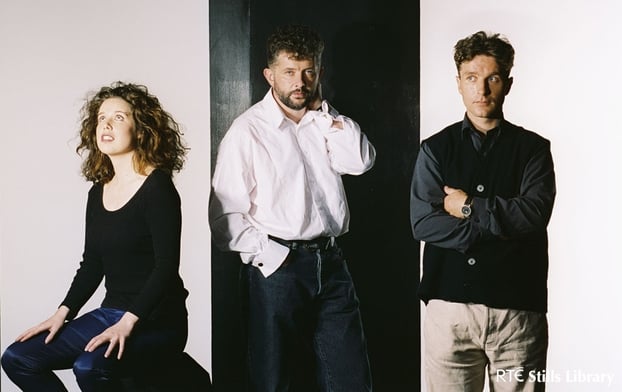 'Cúrsaí Ealaíne' presenters Marina Ní Dhubháin, Tadhg Mac Dhonnagáin and Harry McGee.