'Cursaí' pays a visit to a UCD fashion show in aid of the Simon Community.
In 1995 the UCD Fashion Show. 'A Stitch in Time' was held at the university's O'Reilly Hall from 2 to 4 March 1995. The clothes were modelled by UCD students, with all proceeds going to the Simon Community. A selection of outfits featured on 'Cúrsaí' followed by a discussion between fashion organiser Adelaide Nic Chárthaigh and 'Cúrsaí' presenter Kim Ní Ruairc.
Síleann Nic Chárthaigh go bhfuil na héadaí spéisiúl agus bhain sí an-sult as an seó. Tá sé an-tábhachtach do dhearthóirí óga go ligtear dhóibh a gcuid samhlaíocht a úsáid. Ní bhíonn mórán deiseanna acu a gcuid obair a thaispeáint. Tá comórtasaí ann, ach cuirtear an-bhrú ar na dearthóirí.
This edition of Cúrsaí was broadcast on 2 March 1995.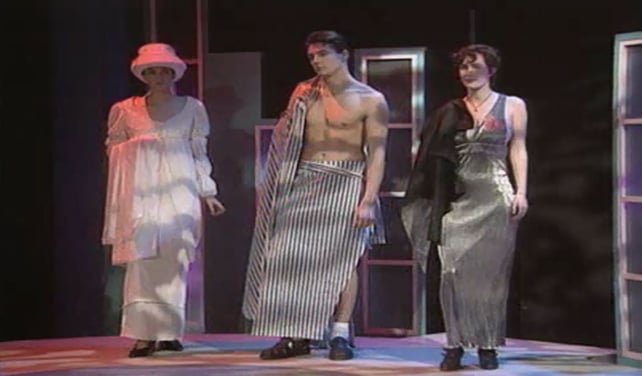 UCD Models