Cathal O'Shannon visits the Isle of Man for 'Newsbeat' where efforts are being made to revive, preserve and spread the Manx language as well as strive towards complete political independence.
Cathal O'Shannon meets Manx language enthusiast Douglas (Doug) Faragher, known to Manx speakers as Doolish y Karagher, who talks about his efforts to save the language through Manx Radio. Twice a week Doug broadcasts a listen and learn programme on Radio Manninagh (Manx), a Douglas based station. Opening the show in both the national language of Manx and in English
This is Doug Farrager with another lesson in our series of Manx Gaelic.
In this excerpt from the show, Doug makes comparisons between Manx Gaelic and Irish and Scots Gaelic. A book accompanies the show and Doug instructs learners throughout the lesson over the airwaves. The report also shows a young girl at home on the sofa repeating the given lines from the text as she listens to Doug's lesson.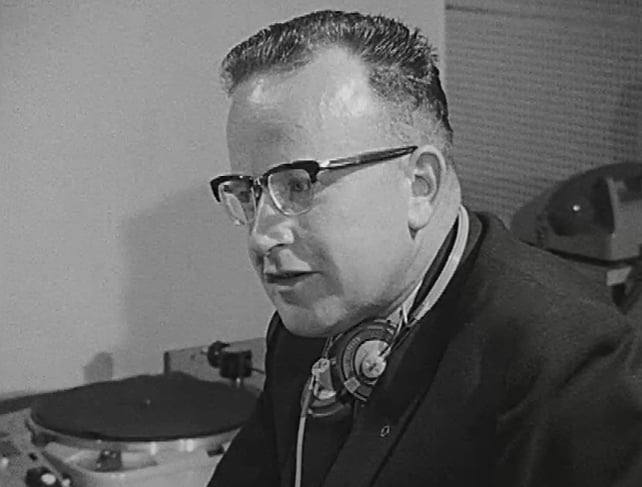 Doug Faragher (1966)
Having returned from Africa several years ago, Doug noticed that the Manx language movement was in decline. His efforts in teaching lessons, both face-to-face and over the airwaves, have helped to address this decline somewhat. According to Doug, over the past few years there has been a reawakening in the Manx national consciousness on the back of the efforts of the Manx language movement.
It's ensured that the language has survived as a spoken tongue on the island.
With only one native speaker left on the island, 90 year old Ned Maderell, O'Shannon questions Doug as to whether this revival is just too late for the survival of the language. O'Shannon also raises questions about links between the language movement and extreme nationalism. Doug describes the language movement as a separatist movement seeking complete independence for the Isle of Man and comments that,
The greatest enthusiasts for Manx political freedom are to be found amongst the language enthusiasts.
The movement is seeking to remove the control of the British home office over the Isle of Man. They want to achieve this through peaceful negotiation.
Doug wears a badge of recognition for Manx Gaelic, which has been adopted from Ireland in the form of a fáinne.
I don't think we are flogging a dead horse. I think that we are trying to give a nation back its language.
This episode of 'Newsbeat' was broadcast on 12 October 1966.