Cork woman Mary O'Malley and her husband Pearse have established the Lyric Players Theatre in Belfast as a centre for the arts.
Mary O'Malley's home on Derryvolgie Avenue, Belfast is also home to the Lyric Theatre. Not just a theatre, the Lyric in Belfast is also a drama school, a music academy, a dance centre and an art gallery.
Originally from Cork, Mary O'Malley has made her mark on Belfast since moving to the city and is the founder and artistic director of the theatre. The theatre was established in 1951 putting on classical plays by everyone from Ibsen and Chekhov to O'Casey and Yeats, as well as more contemporary works by the likes of James Plunkett and Austin Clarke.
Mary O'Malley describes the theatre as professional in that people are paid a fee for their performances. While the Lyric was initially established out of personal interest, it then became a crusade. Until 1960, the theatre was privately subsidised and then became a trust.
A drama school which is attached to the theatre has approximately sixty-five students. Mary O'Malley also established Belfast's first academy of music. The art gallery exhibits work by local and international artists.
There are plans to build a new theatre building to house the plays, the academy, the gallery, and other activities. The main challenge is to finance the build and finding a site.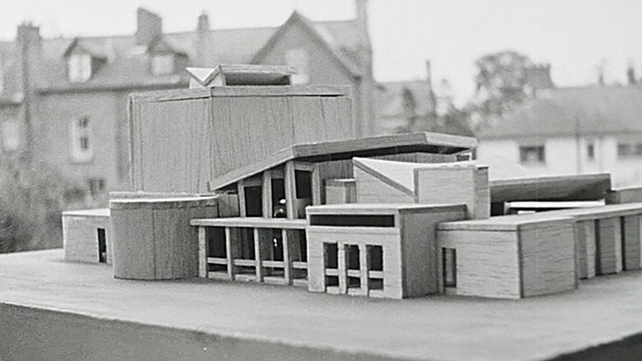 Plans for the Lyric Theatre Belfast
Theatre is primarily a method of dealing with people. You have to coax them and flatter them and play with them and get them to do what you want to do.
This episode of 'Broadsheet' was broadcast on 2 October 1963.
'Broadsheet' was a magazine style, nightly review of people and events introduced by John O'Donoghue and presented by the Broadsheet Unit.