Images of Belfast captured by amateur photographers go on display at an old flax mill on Conway Street.
As many of the old flax mills fall into disrepair, some are being put to new use. The Conway Mill is being run as a community project and is available to local groups to run events such as the amateur photography exhibition of life in the city.
Danny Burke, organiser of the event, felt that photography had become something for the elite and he wanted to bring it to the people. A group of amateur photographers came together to organise the exhibition. It is appropriate that the exhibition is at the Conway Mill as there are plans to use the building as an educational cultural and employment centre for West Belfast.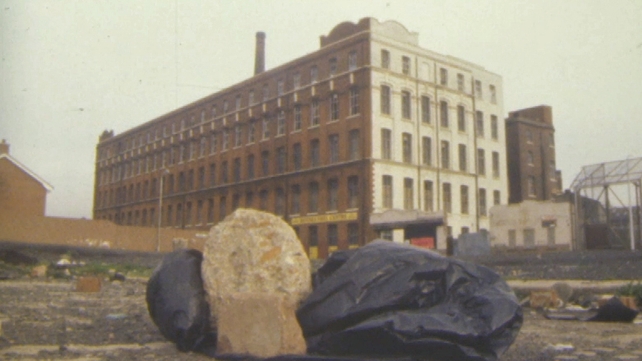 The exhibition was widely advertised across Belfast.
We really felt that if the exhibition was to be a success that we would need to cross the so-called sectarian divide.
Along with photographs, slides of street murals from both sides of the sectarian divide were included in the exhibition.
The exhibitors hoped to provide a faithful record of their environment.
Danny Burke would like to take the exhibition on the road to other parts of Northern Ireland and also to the Republic.
An RTÉ News report broadcast on 9 November 1983. The reporter is Póilín Ní Chiaráin.