'The Irish Headhunter' is an exhibition of photographs by Charles Browne (1867 – 1931), an anthropologist who surveyed communities in the remotest parts of Ireland between 1891 and 1900.
The photographs are on display for the first time at Ionad an Bhlascaoid Mhóir, Dún Chaoin, Co. Kerry.
The collection is being exhibited with the permission of Trinity College Dublin and is one of the most important photographic records of 19th century Irish life. English anthropologist Charles Browne's fascination with skulls led to him being known as The Headhunter. He photographed the people of the west of Ireland and the islands, including the earliest known images of the Blasket islanders. Ciaran Walsh one of the exhibition's curators describes the nature of Browne's work.
Browne was collecting human skulls. He was a headhunter. He was also collecting live skulls but to get live skulls he took photographs of the people. He had a theory that the people of the west of Ireland, the primitives, were more closely related to the people of Africa. The black Irish man was what they were looking for.
Over a period of eight years, Charles Browne studied many communities along the west coast of Ireland. He photographed the shark hunters of Inis Airc, the Island King of townland Inis Caoich, the hardy women of Aran, as well as people in Inis Boffin, Carna in Connemara, and Dún Chaoin on the Blasket Islands.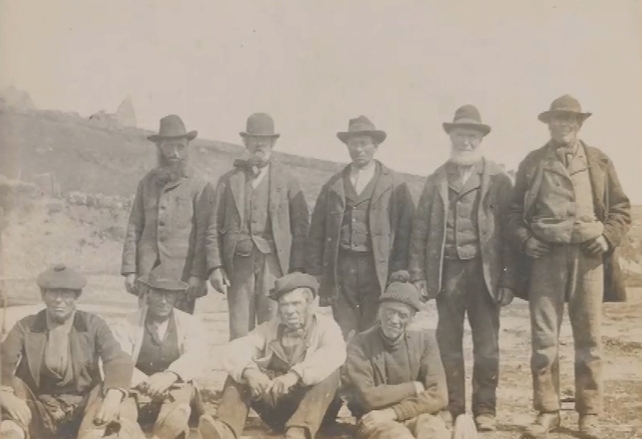 Shark Hunters of Inis Airc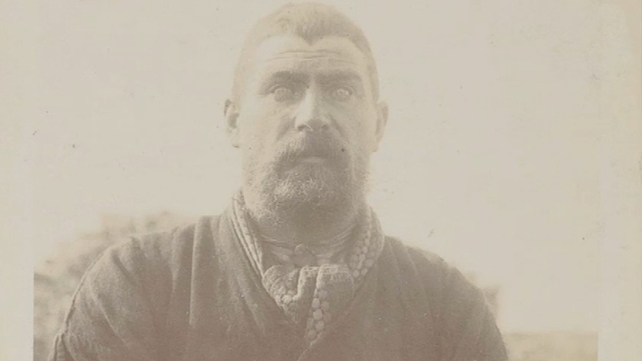 The Island King of townland Inis Caoich
Dáithí de Mórdha of the Blasket Island Centre describes the significance of the photographs, especially those taken on the Blaskets, which are the earliest photos of the Blasket people. The author of 'The Islandman' Tomás Ó Criomthain is depicted in one of the photographs.
Trinity College has confirmed that it no longer houses the actual skulls collected by Browne, and their location is not known.
The Headhunter Exhibition, jointly curated by Ciaran Walsh of www.curator.ie and Dáithí de Mórdha of the OPW Ionad an Bhlascaoid Mhóir/Great Blasket Centre, will visit the Aran Islands, Castlebar and Cambridge.
An RTÉ News report broadcast on 4 May 2012. The reporter is Seán Mac an tSíthigh.