A foundation has been launched to try to keep the Great Blasket Islands in Irish hands and prevent it being sold to foreign investors.
The six Blaskets are the most westerly islands in Europe - a very special place of incredible beauty.
In 1954 the last of the Great Blasket islanders left the island. While there is no longer anyone living there, all the former islanders hold a strong attachment to the islands.
Former islander Niamh Ní Chriomthain-Laoithe is the grand-daughter of Tomás Ó Criomhthain, author of An t-Oileánach (The Islander). Niamh left that Blaskets at the age of five in 1942. At that time there was no school on the Blaskets and her parents decided to leave. Niamh is now involved in supporting the campaign to save the Blaskets.
Coinciding with the establishment of the foundation to save the Blaskets, an exhibition has opened on the mainland to commemorate times gone by and island life. A gathering of 200 people also took place in Ballyferriter with the objective of ending the neglect of the Blaskets and to get political parties to agree to designate the Great Blasket as a national park.
The Blasket Foundation plans to keep the ownership of the Blaskets in the hands of the Irish people. These objectives, outlined by Foundation Trustee Padraig Feirtéar, also include plans for an Interpretive Centre on the mainland. National Chairman of the Foundation Paddy Moriarty talks about lobbying politicians to have The Blaskets turned into a National Historic Park.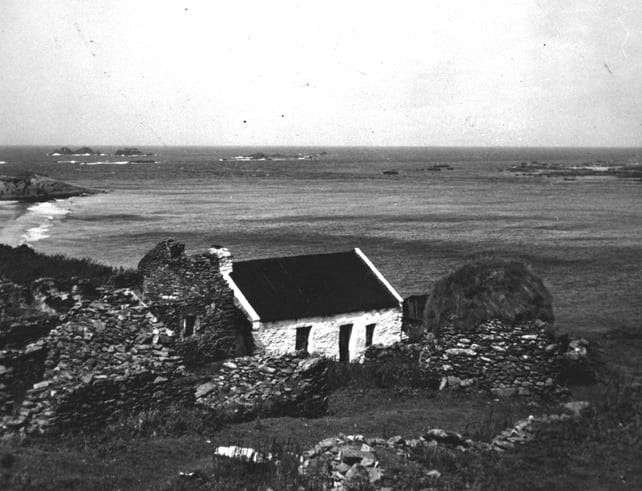 Blasket Island Cottage
If that's done, it would be possible to sell Blasket land only to the state at a fair price.
Islander Seán Ó Cerana opened the campaign to prevent two-thirds of the Blaskets being sold for $900,000. The offer was made by American Taylor Collings, who had bought up much of the property in the 1960s and 1970s.
An RTÉ News report broadcast on 24 November 1986. The reporter is Tom MacSweeney.