A mother of three from Achill Island is serving time in Mountjoy Prison following a dispute with neighbours over a hedgerow and a rooster.
The dispute arose when Myra Gallagher built an extension onto her family's bungalow and cut down a rhododendron fence separating her home and that of her neighbours the Masterson family. Mrs Gallagher subsequently failed to comply with a court order to build a six foot wall between her house and that of her neighbours and also refused to get rid of her cockerel Coileach.
Son Tommy Gallagher defends the rooster at the centre of the controversy saying if he crows at 6.00am it is not disruptive
It's just Coileach crowing.
He admits the situation has gone a bit far as his mother has already been in prison for two weeks.
I know she's strong willed and she'll just fight it out, she can't understand why she has to build a wall.
Community leaders are trying to get Mrs Gallagher released on compassionate grounds and one man fighting her corner is Achill curate Fr John Kenny, although he is not hopeful of Mrs Gallagher being released any time soon.
I don't know how willing she is to cooperate or what her stance is, I think she's ready for a long haul.
There are fears that Mrs Gallagher's situation will cause tension or divisiveness on the Island. Meanwhile the Masterson family are refusing to comment.
An RTÉ News report broadcast on 14 November 1996. The reporter is Jim Fahy.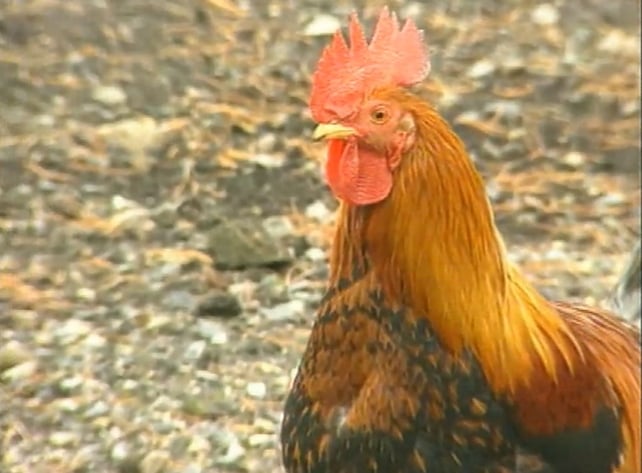 Coileach the controversial Achill Island cockerel.