A visit to Paradise, the home of Celtic Football Club in Glasgow, Scotland.
Celtic Park in the Parkhead area of Glasgow in Scotland the home ground of Celtic Football Club is known by fans as Paradise.
The club was founded in 1887 in the Gorbals area of Glasgow with the aim of alleviating poverty in the immigrant Irish population in the East End of Glasgow.
Celtic are known for their attacking style of football and their finest hour was in May 1967 in Lisbon when they defeated Inter Milan 2–1 in the European Cup final. Nicknamed the Lisbon Lions all members of the side were Scottish as they became the first British team to win the European Cup.
Bobby Lennox is the only Lisbon Lion still playing. He does not believe professional footballers necessarily need to cease playing just because they reach the age of thirty.
I enjoy training and I enjoy playing the games, I don't feel I should retire.
Celtic's first team squad are carrying out some pre-match training but due to injury star player Tommy Burns trains alone. Celtic manager Billy McNeil and striker Johnny Doyle discuss tactics for the top of the league clash against Greenock Morton Football Club.
Billy McNeil has a long association with the Celtic Football Club as he captained the team in the 1960s and early 1970s.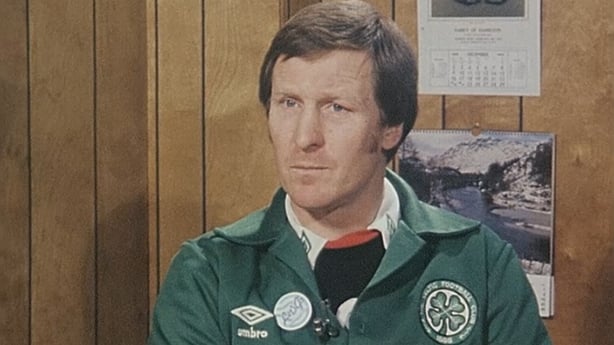 Being captain of the Lisbon Lions was an easy job to do as the players were so good.
Good players know what to do they don't have to receive an awful lot of direction and that team was a dream to captain, they were a great side, they were good players and they played well together as well.
Music in this reports features Ewan McColl singing 'Dirty Old Town', Ewan MacColl and Peggy Seeger singing the Scottish folk song 'Bonnie Charlie' and the songs 'Hard Workin Man' and 'Quittin' Time (Main Theme)' from the soundtrack to the film 'Blue Collar'. Also featured is Glasgow comedian Billy Connolly.
'Let's Go' was a sports programme aimed at young people.
This episode of 'Lets Go' was broadcast on 4 March 1980. The reporter is Kathy Parke.